Buenos Aires cruise season takes off next Saturday; 320.000 visitors expected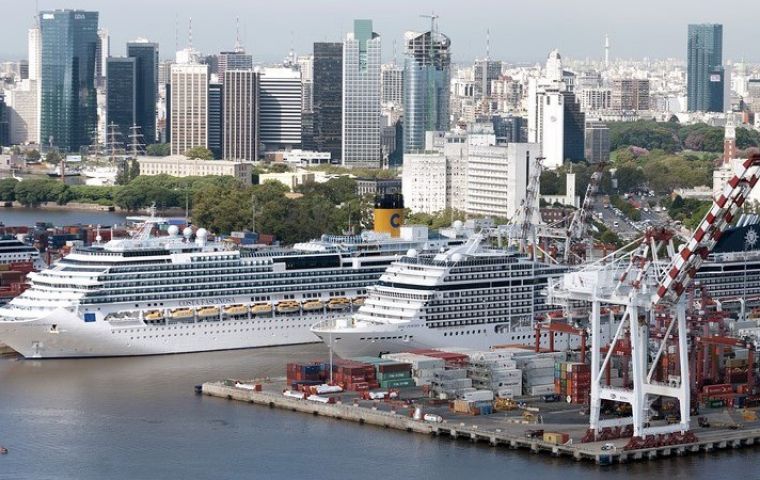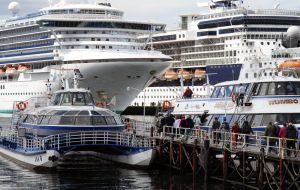 Next Saturday the Holland America cruise Zaandam is expected in Buenos Aires signaling the start of the 2017/18 season, which according to Argentine officials is going to be the best following on four years of sustained retraction. So far the number of docking requests include 110 calls with an estimated number of 320.000 visitors, although there are possibilities the final figure, by 24 April 2018, could reach 328.000.
During the previous season Buenos Aires received 82 cruise calls and 295.271 visitors, one of the worst in the last eight years. However improvements in the port of Buenos Aires, better terminals, cheaper fuel and services have helped the industry to recover in Argentina and the Ports Authority Administration is planning to receive 350.000 visitors for the 2018/19 season. Nevertheless this is still far from the half million visitors and 160 calls during the 2012/13 and 2013/14 seasons.
Some of the measures implemented to improve conditions include an only US$14 landing fee for visitors, and the elimination of mandatory yellow fever vaccination for crew members, excepting those who have previously visited countries where the disease is endemic according to the World Health Organization. Docking rates have also been reconsidered making them less onerous, and incentives for vessels and passengers to remain an extra day are also in the pipeline.
According to Argentine stats, last season almost half of cruise visitors (47.72%) originated in neighboring countries, followed by United States and Mexico, 26.9%; Europe, 11.17%; Oceania, 10.46% and Asia, 2.15%, with an average expenditure of US$ 150.
Some of the encouraging facts for Buenos Aires authorities is the return of Aida Cara, expected with 2.000 German visitors (after a four-year absence), as well as the announced seven calls of Celebrity Eclipse with 3.000 visitors each time.
But the good news is not exclusive of Buenos Aires. In effect, Ushuaia, Puerto Madryn and for the first time Mar del Plata are also scheduled to register an increase in cruise activities.
Ushuaia, which virtually monopolizes cruises to Antarctica expects this season some 329 calls (against 289 in the previous), has undergone significant infrastructure improvements: an additional deep water docking space of 7.000 sq meters (28 by 251 meters), plus a 17% reduction in the fuel price for vessels bunkering in Tierra del Fuego, which works out at a US$ US$ 121 saving per cubic meter.
Another positive announcement is that Alteza Cruises with its Med Queen is planning to dock at Mar del Plata naval base on 21 December with 320 visitors. A few years ago some vessels did visit Mar del Plata, but with non sufficient docking facilities, they would land passengers in smaller launches.