Piñera leads in presidential election vote intention, but will face runoff
Thursday, October 26th 2017 - 07:03 UTC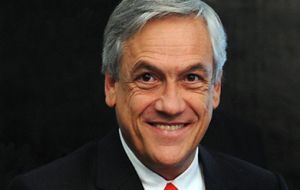 Chilean conservative presidential candidate Sebastian Piñera maintained his lead in voter preference ahead of the Nov. 19 election, and was seen beating his two closest rivals in a likely runoff, pollster CEP said on Wednesday
Piñera, a wealthy businessman and former president who governed from 2010 to 2014, was seen as stronger on crime and job creation than his seven rivals, in the latest poll.
According to the poll, Piñera would win 32.8% of voters in the first round, up from 31.3% in CEP's last poll on Sept. 1. Center-left Senator Alejandro Guillier polled 18.8% of support, up from 14.5% previously, while leftist Beatriz Sanchez slipped about three percentage points to 7.0%.
A Piñera win would please Chile's business community, which blames outgoing President Michelle Bachelet for sluggish economic growth in the world's top copper exporter.
But it would be considered a letdown for Bachelet's center-left base and a younger generation of urban Chileans, who hope for deeper changes to the country's longstanding, free-market economic model.
The election is scheduled for Nov. 19, but if no candidate receives more than 50% of the vote, a second-round runoff between the top two candidates will be held in December. The poll of 1,424 Chileans conducted from Sept. 22 to Oct. 16 has a margin of error of three percentage points.