Mapuches acquitted of arson attack and two deaths in south Chile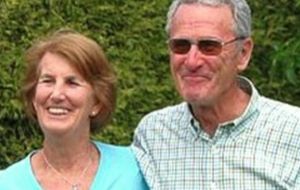 A Chilean court this week acquitted eleven Mapuche people accused of terrorism over an arson attack that killed an elderly couple, part of a series of indigenous rights protests.
The judge in the closely-watched trial in the southern city of Temuco, Ignacio Rau, dismissed the charges saying there was no evidence to suggest the fire had a terrorist motive or that the act was committed by the defendants.
The elderly landowners, Werner Luchsinger and Vivianne McKay, died while defending themselves in the arson attack which completely destroyed their home in January 2013, some 600 kilometers south of the capital Santiago.
A Mapuche militant, arrested after being shot in the neck by Luchsinger during the attack, was convicted of the crime in 2014 and sentenced to 18 years in prison.
Among the eleven defendants before the court on Wednesday was Francisca Linconao, a prominent spiritual authority, or "machi," who served nine months of pre-trial detention. She accused the public prosecutor of racism against her community. "I am not lying. I am a machi and I speak the truth," she said.
In June, President Michelle Bachelet formally apologized to the Mapuche community for the "errors and horrors" committed by the Chilean state against their communities.
The Mapuche, Chile's largest indigenous group, have admitted firebombing landowners as part of a campaign to reclaim ancestral lands seized by the state at the end of the 19th century and sold to logging companies.
Chile has been criticized by rights groups for inappropriately using anti-terrorist legislation against the Mapuche group.