Brazil wants detailed investigation into Canada's aerospace industry "subsidies"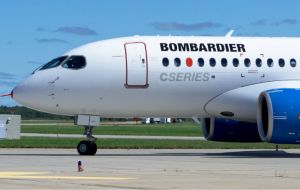 Canada has urged the World Trade Organization to block attempts by Brazil to trigger a detailed investigation of its aerospace industry to buttress its case that subsidies to Bombardier caused "serious prejudice" to Brazil's Embraer. The procedural move by Canada comes a month after the WTO agreed to set up a panel to investigate Brazil's claim that Canada provided harmful aid to the CSeries jet.
In a WTO filing this week, Canada said Brazil's preparatory arguments were not up to scratch and should not be allowed to trigger the potentially costly and time-consuming probe of its aircraft policies under a procedure known as "Annex V".
Although a seemingly arcane piece of trade legislation, Annex V is hotly debated at the WTO because it defines how deeply a panel can investigate to uncover potential trade abuse.
The procedure can involve hundreds of questions and answers under special procedures for handling confidential information, but WTO members have clashed about when it has to be used.
"Canada should not be required to participate in a time-consuming, resource-intensive and costly Annex V process with regard to measures and legal claims that are not properly within the panel's terms of reference," Canada told the WTO.
Granting Canada's request could blunt Brazil's efforts to lay out what it regards as illegal aid for the CSeries jet, while resisting it could help plaintiffs in future trade rows.
The procedural spat takes its cue from a much larger WTO battle between the United States and the European Union over aircraft subsidies, now in its 14th year. In its case against U.S. subsidies to Boeing, which involves counterclaims to Washington's pursuit of European subsidies to Airbus, the European Union successfully appealed against a WTO panel's decision not to initiate the Annex V procedure.
Commenting as an observer on that case, Canada said WTO dispute panels had no power to decide how to trigger Annex V.
The latest filing is part of the groundwork for the third showdown over aircraft aid between Canada and Brazil at the WTO. It comes as Boeing pursues claims outside the Geneva-based body against the CSeries using domestic anti-dumping legislation.
Airbus agreed this month to take a majority stake in Bombardier's CSeries program, securing the plane's future and giving the Canadian firm a possible way out of the trade dispute with Boeing.