Falklands attends International Maritime Museums Congress in Chile
Monday, October 30th 2017 - 18:04 UTC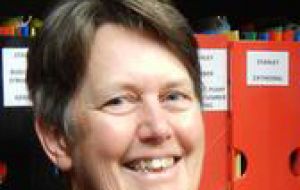 The 18th International Congress of Maritime Museums (ICOM) was held recently in Valparaiso, Chile and Manager of the Falkland Islands Historic Dockyard Museum Alison Barton attended to represent the Museum.
The theme of this year's Congress was 'Discoveries' and over 80 delegates from maritime museums around the world attended. In addition to the variety of talks on the main theme of the Congress, it was also a great opportunity to meet experts from world class museums who were willing to share their experience and knowledge on a variety of issues faced by maritime museums.
Although this was the 18th Congress, it was the first one to be held in South America. In addition to the formal sessions in the National Maritime Museum in Valparaiso there were also opportunities to visit nearby sites of historic interest including the Punta Angeles Lighthouse in Valparaiso and Nobel Prize Pablo Neruda's house at Isla Negra overlooking the Pacific Ocean. (Penguin News).