Argentina's top prosecutor resigns, under pressure of corruption charges
Tuesday, October 31st 2017 - 07:50 UTC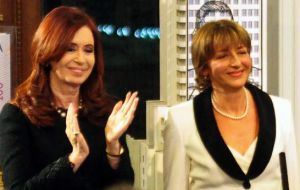 Argentina's top prosecutor quit on Monday under pressure from the government over accusations that she hampered corruption investigations into officials from the previous administration of President Cristina Fernandez.
Alejandra Gils Carbo, whose resignation will take effect on Dec. 31, was appointed chief prosecutor during populist Fernandez's second term and stayed in the post under business-oriented President Mauricio Macri.
Macri, in office since late 2015, accused Gils Carbo of failing to bring corruption charges against members of Cristina Fernandez's cabinet. Gils Carbo is herself the focus of a corruption investigation cantering on her tenure as lead prosecutor. She has denied corruption allegations.
At a press conference in July, Macri described Gils Carbo as a "political activist" who misused her power as attorney general. After repeatedly calling for her resignation, Macri's government began a campaign for reforms that would allow for Gils Carbo's firing, which ultimately prompted her to step down.
In her resignation letter, Gils Carbo told Macri she was concerned that his actions would end up hurting state institutions by "significantly affecting the autonomy of the public prosecutor's office."
Gils Carbo resigned one week after a powerful minister from the Fernandez era was arrested following a vote in Congress that stripped him of his parliamentary immunity in two corruption cases. The former minister, Julio De Vido, is the most powerful official from the Fernandez administration to be jailed.
Argentine Cabinet Chief Marcos Peña told journalists that the resignation on Monday of chief prosecutor Alejandra Gils Carbo, was a step towards making the judiciary more independent.