Boudou, a history of ambition, good life, power and greed
Monday, November 6th 2017 - 07:07 UTC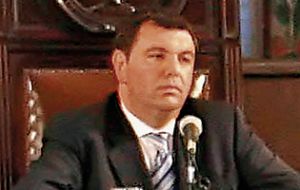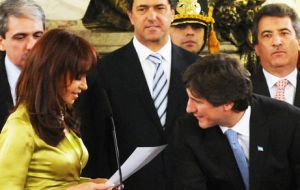 Ex Argentine vice-president under Cristina Fernandez, Amado Boudou, has joined other former ministers, deputy ministers, top officials and Kirchner family associates who are in jail awaiting for trial on multiple corruption charges. The joke in Buenos Aires is that any moment they will be holding a cabinet meeting once ex president Cristina Fernandez joins them.
Humor aside, the fact that many of these trials have started to move only recently, most of them under the same magistrates gives an idea of the atmosphere under Cristina Fernandez rule or even, why not, contamination of the judicial system.
Boudou was arrested on orders from Judge Ariel Lijo on charges including money laundering, hiding undeclared assets, and other activities while holding office, as head of the Argentine government pensions' scheme, minister of economy, 2009/11, and later at the cusp of his influence, and as one of the ex president's favorites, he was handpicked as vicepresident in the winning reelection ticket of 2011
Judge Lijo ordered Boudou's arrest in a case initially brought in 2012 involving tax return anomalies and said the 55 year old economist, "had been enriched unjustifiably during the exercise of public duties". The judge also ordered the arrest o Boudou's business partner Jose Maria Nuñez Carmona.
The arrest warrant said the charges include illicit association and money laundering. "They developed their criminal schemes since the start of August 2009, when Amado Boudou took charge of the Economy and Finance Ministry, until the month of December 2015, when he ended his vice-presidential term," it said.
The warrant said Boudou made intricate financial transactions, some of them involving bank accounts abroad, to shield money and its beneficiaries. It also said that Boudou laundered money by buying an apartment for his then-girlfriend, journalist Agustina Kampfer.
The embattled former official is already on trial on charges of bribery and conducting business incompatible with public office. In that case, Boudou is accused of using shell companies and middle men to gain control of a company that was granted contracts to print the Argentine currency. He also has pending legal disputes with other former girlfriends and in December was scheduled to travel to Mexico to be next to his current pregnant girlfriend, a Mexican politician.
Boudou's attorney, Eduardo Duranona, told reporters that he was surprised by the arrest and that his client never intended to flee. He also said Boudou wants to cooperate in the investigation, and asked the judge how come "you have him detained today, and not yesterday".
Boudou is an economist, who loves rock, playing the guitar as a rock star, as well as top end cars and Harley Davidson motorbikes, and although he studied at a Liberal pro-business economics school, he joined the populist administration of Cristina Fernandez and was instrumental in proposing, at a critical moment for the cash strapped government, to grab the private pensions scheme funds.
Apparently this was the main reason for Cristina Fernandez choosing Boudou to join her in the presidential ticket. However he was never a member of the president's inner group.
Other high level ex Kirchner officials in jail include former planning minister, Julio de Video, was arrested two weeks ago on corruption charges after Congress stripped him of his parliamentary immunity. De Vido is being investigated on suspicion of having the Government overpay more than US$ 7 billion for liquefied gas. He's also being probed for possible embezzlement in another case involving a coal mine.
A former deputy public works minister, Jose Lopez, is also facing charges after being caught by police trying to hide US$ 9 million in cash in a Buenos Aires convent earlier this year.
Since leaving office in 2015, Cristina Fernandez has been hit by a string of corruption scandals and was indicted last year. She has acknowledged that some corruption took place during her Government, but denies any wrongdoing and dismisses allegations against her as politically motivated. Fernandez won a Senate seat during the recent elections, which grants her immunity from arrest.