Gendarmerie report says Nisman was beaten and drugged by two attackers who then staged his suicide
Wednesday, November 8th 2017 - 07:10 UTC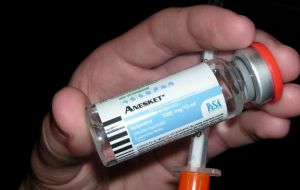 A new report summarizing the findings of an Argentina police probe into the mysterious death of Alberto Nisman, who accused Argentina's government of covering up Iranian involvement in the bombing of a Jewish community center in 1994, has determined that the prosecutor was murdered.
The report by the country's border police agency, Gendarmerie, released in the Buenos Aires media, bases its conclusions on new evidence and directly contradicts the findings of a federal police investigation which determined that Nisman had committed suicide.
The findings of the report were first reported by the news site Infobe in September.
Nisman was found dead with a gunshot wound to his head days after filing a report accusing Argentine President Cristina Kirchner, Foreign Minister Hector Timerman and other figures close to the government of protecting high-ranking Iranian officials from prosecution over the 1994 bombing of the Argentine Jewish Charities Federation in exchange for oil and other trade benefits.
Cristina Fernandez de Kirchner denies accusations of a government cover-up or any wrongdoing and says the case is politically motivated.
The Gendarmerie report says that Nisman was beaten and drugged by two attackers who then staged his suicide, noting that other experts involved in a string of previous probes never found any traces of gunpowder on Nisman's hands.
The report says that the anesthetic Ketamine was found in Nisman's body, along with evidence consistent with a physical altercation including a broken septum and blows to his hip and other areas.
The 1994 van bombing of the building of the Argentine Jewish Charities Federation, or AMIA, left 85 people dead and 300 others injured in the worst attack of its kind in Argentina.
In 2013, Cristina Fernandez Kirchner tried to form a "truth commission" with Iran to jointly investigate the bombing. Nisman claimed the truth commission was intended to help get Interpol arrest warrants dropped against five Iranian suspects as a step toward normalizing bilateral relations.
Nisman was found dead with a gunshot wound to his head just hours before he was due to testify at a Congressional hearing.