Trump doesn't blame China for its trade surpluses: "they work for the benefit of their citizens"
Friday, November 10th 2017 - 17:59 UTC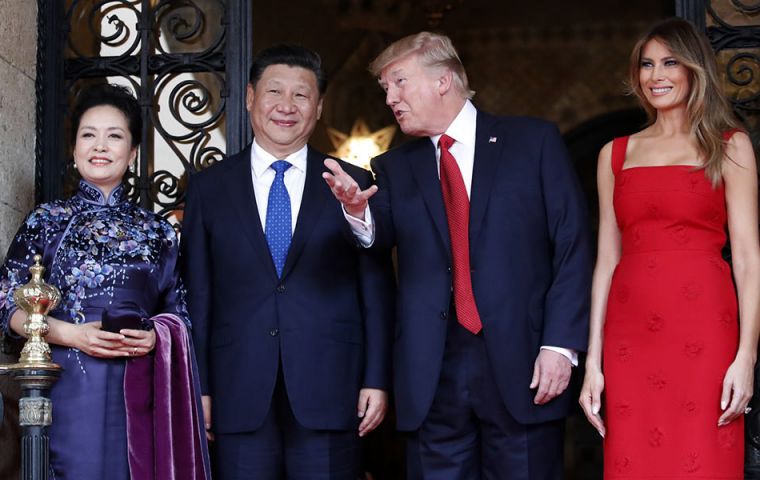 President Donald Trump has said he does not blame China for the "unfair" trade relationship between the countries, despite long railing against the economic imbalance. Speaking in Beijing, he gave China "credit" for working to benefit its citizens by taking advantage of the US.
Trump spoke alongside China's president Xi Jinping on Thursday, as the US leader continued his tour through Asia. The pair also signed US$250bn worth of business deals. However, some of the agreements are non-binding, and it was not immediately clear how many represent new or final contracts.
The US president, who is visiting Beijing as part of a 12-day Asian trip, has long decried his country's trade deficit with China.
The total trade relationship between the pair was worth US$ 648bn last year, but trade was heavily skewed in China's favor with the US amassing a deficit of US$ 310bn.
While still characterizing the relationship as "very unfair" and "one-sided", Trump said on Thursday that China was not at fault, instead blaming previous US administrations.
"I don't blame China. After all, who can blame a country for being able to take advantage of another country for the sake of its citizens?" he said during a signing ceremony for the business deals. "I give China great credit," he added.
The US$ 250bn of deals signed on Thursday included shale gas, liquefied natural gas and aviation projects. Executives from General Motors, GE and Goldman Sachs were among those at the signing ceremony.
However, Deborah Elms, executive director of the Asian Trade Centre, cautioned over the true value of the deals. She said agreements announced on trade missions frequently include "previously discussed items, things that are potential deals, items that might never come to pass and deals that will materialize in short order".
Ms Elms also said the US president's apparent sympathies toward China on trade could fade. "Trump has a history of being nice in person and immediately reverting to form once he leaves. I do not expect him to abandon his concerns about unfair China trade," she added.
On Wednesday, US Commerce Secretary Wilbur Ross unveiled $9bn of business tie-ups between US and Chinese companies, though many are non-binding. The US-China deals announced this week include: a US$ 37bn agreement between Boeing and China Aviation Suppliers Holding Company for 300 airplanes; up to US$ 43bn of investment to develop liquefied natural gas in Alaska, between Alaska Gasline Development Corp, the State of Alaska, Sinopec, China Investment Corp and the Bank of China; US$12bn in potential deals between Qualcomm and Chinese phone makers Xiamoi, OPPO and Vivo; US$ 5bn in non-binding deals for soybeans between the US soybean industry and Chinese importers.