Falklands' ice hockey team will play a Canadian side that arrives with a letter of support from PM Trudeau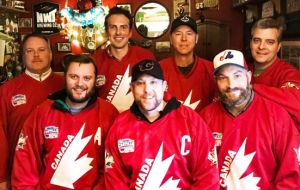 On November 18 & 19, Costa Rica's first ever international ice hockey tournament will take place in the hills of Heredia, where it is much cooler than in the Central Valley, at the Castillo Country Club, home of the Castillo Knights.
For the two day event, a truly Canadian hockey side will be on hand to compete with national teams and a team from Los Angeles (California) and the Falkland Islands, who will be playing on Central America's only ice skating rink.
The Falklands will be represented by the Stanley All-Stars, which have played overseas in Chile.
This is a big deal for Costa Rica, as well for a group of Calgary, Alberta, men who are about to graduate from beer league hockey to the international stage — and with the encouragement from Canada's Prime Minister, Justin Trudeau who sent a letter of support.
A report from the Calgary Eyeopener says that the Calgary Citizens is a recreational hockey team of "guys who played hockey all their lives but never really made it probably beyond high school hockey," player Ken Trudeau, with the same last name but no relation to Justin Trudeau.
The crew, ranging in age from early 30s to 50 — including two CBC Calgary journalists — loves the sport, and now in Costa Rica reading for the small tournament. with the support from PM Trudeau.
"There was something in the letter about a high level of skill and athleticism. We'll touch on that maybe off-air," player Kyle Kemp joked with Calgary Eyeopener host David Gray. "We're an older group of proud, hockey-playing Canadians," Trudeau said.
The participation of the Calgary team at the Castillo tournament is no coincidence. The event is being organized by Bruce Callow, a Calgary ex-pat, who brought his love of the sport to a country where there is no snow or ice – just extremely cold air conditioning – when he moved to Costa Rica about 30 years ago.
The team doesn't expect to take home the trophy now that the tournament has expanded to include the Los Angeles and Falkland Island teams, and in the joking words of player Kyle Kemp, "We're hoping not (to earn the title of the worst team Canada's ever fielded) but there are those chances".