Jimmy Carter awarded highest honor by Argentina for his defense of human rights
Monday, November 20th 2017 - 11:31 UTC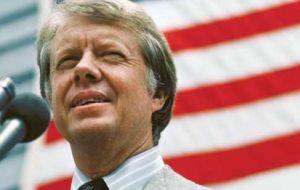 Former United States President Jimmy Carter was recently recognized by the Argentine government in a ceremony held at the Carter Center in Atlanta. Carter, 93, was conferred the highest honor awarded by the government of Argentina: the 'Order of the Liberator General San Martín.'
The politician, who served as president of the United States between 1977 and 1981, was recognized for his denouncement of the Argentine dictatorship (1976 – 1983) and for his support of human rights in that country.
The order, signed by current Argentine President Mauricio Macri and presented by Argentina's Human Rights Secretary Claudio Avruj, highlights Carter's impassioned work in defending human rights, an act for which he won the Nobel Peace Prize in 2002.
"When I became president of the United States I established that human rights would be the basic premise of our entire administration," Carter explained upon receiving the honor.
"There were three main issues I wanted to address: the first was the military dictatorships that existed in Latin America — in Uruguay, in Argentina, in Peru, in Chile, and even in the great nation of Brazil," said Carter.
"I also wanted to give a voice to indigenous peoples, with the hope that they would also come to participate in democracy. Something else I wanted to attend to with my administration was the transfer of control of the Panama Canal, which most Latin American countries considered to be a grave injustice. The third thing I wanted to accomplish was to investigate the reports we were receiving from Argentina, that thousands of people were disappearing at the hands of the military dictatorship," Carter added.
Avruj emphasized the work that Carter contributed in fighting against the dictatorship, to which are attributed the disappearances of thousands of individuals, leaving a dark mark on the South American nation.
"President Carter is very incorporated into the emotions of Argentines, for his actions during our darkest years, when the dictatorship was in its most violent moment. He championed the cause for the world of human rights, and he fundamentally, face to face, spoke with the dictators; asking for justice; asking for human rights; and denouncing state terrorism and the forced disappearance of people," said Avruj in an interview with MundoHispánico.
Carter praised the efforts of the now deceased Patricia 'Patt' Derian, who served as the State Department's human rights chief during Carter's administration, as well as he pointed out the work of the many Argentine "heroes" who fought for justice in their country.
However, Carter cautioned against what he perceives to be a waning interest in human rights in current times. "At this moment in history, humanity's commitment to human rights is very low. Many people have lost faith in the basic values of human rights, which are democracy, freedom, telling the truth, and treating everyone equally," said Carter.