Several members of Temer's party charged with money laundering and criminal association
Wednesday, December 6th 2017 - 09:56 UTC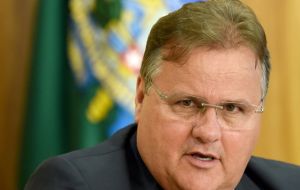 Brazil's prosecutor general officially presented money laundering and criminal association charges against six people, including a former federal minister and a congressman, Brazilian media reported on Monday evening.
According to newspapers Estadão and O Globo, the prosecutor general sent the formal accusations to Brazil's Supreme Court, which will now decide on further actions.
The prosecutor officially accused Geddel Vieira Lima, the papers said, who was in charge of President Michel Temer's relations with Congress until November 2016. The charges related to a previously disclosed corruption probe, in which his fingerprints were found in bags hiding more than 51 million reais (US$15.7 million) in cash.
The prosecutor also accused Geddel's brother and a federal congressman, Lúcio Vieira Lima, their mother, Marluce Vieira Lima, a former advisor to Lúcio, Job Ribeiro, the ex-director of the civil defense force for the city of Salvador, Gustavo Ferraz, and a partner at construction company Cosbat, Luiz Fernando Costa Filho, O Globo reported.
Among the possible sources of the 51 million reais of cash, the prosecutor said according to the paper, were bribes from embattled construction firm Odebrecht and kickbacks related to President Temer's Brazilian Democratic Movement Party (PMBD).
Brazil has been wracked by corruption cases that have reached all levels of business and government in recent years, shattering the public's faith in the political class. Just weeks ago, police arrested the head of the Rio state assembly and two other state assemblymen on corruption charges, all of whom were also members of Temer's PMDB.