May expresses solidarity to Macri over the missing ARA San Juan submarine
Wednesday, December 13th 2017 - 07:33 UTC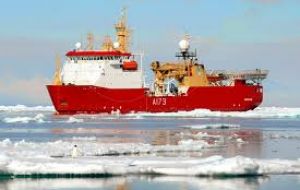 British Prime Minister Theresa May contacted on Tuesday Argentine president Mauricio Macri to express solidarity over the missing submarine ARA San Juan which disappeared on 15 November in the South Atlantic after exchanging messages with its base in Mar del Plata. The news was supplied by the official Argentine news agency, Telam.
Macri on his side thanked PM May for the British effort as part of the international operation which collaborated in the search of the missing vessel. Currently besides the Argentine navy task force, only US, Russian and Chilean vessels continue the search.
Almost a month ago the ARA San Juan last contacted base reporting a failure in the batteries system which propels the vessel. Since then Argentina organized a huge search and rescue operation which counted with the immediate support of fourteen countries, including US, Russia and UK with state of the art equipment for deep sea surveying and ROVs, However despite the effort and time, the submarine remains missing and so does what seems the inevitable tragic loss of 44 crew members including Argentina's first woman submariner officer.
This is the first formal conversation between the two leaders. Last year Mrs. May and Macri came across during the G20 summit and the UN General Assembly meetings but exchanges were brief and informal. Anyhow they confirmed the new constructive spirit of the UK/Argentina bilateral relation since president Macri took office in 2015, first with David Cameron and now with Theresa May.
UK's cooperation included Ice patrol HMS Protector with its sophisticated equipments, HMS Clyde and ample air support, including the use of MPA complex in the Falkland Islands. Likewise for the first time in decades RAF transport aircraft landed in Argentina with support equipment and highly trained rescue teams.
The Argentine foreign ministry last week thanked UK for its cooperation in the SAR effort, as well as the Falkland Islands for their attitude in such highly sensitive moments for the Argentine people.