Islam nations call for the recognition of the State of Palestine and East Jerusalem as its occupied capital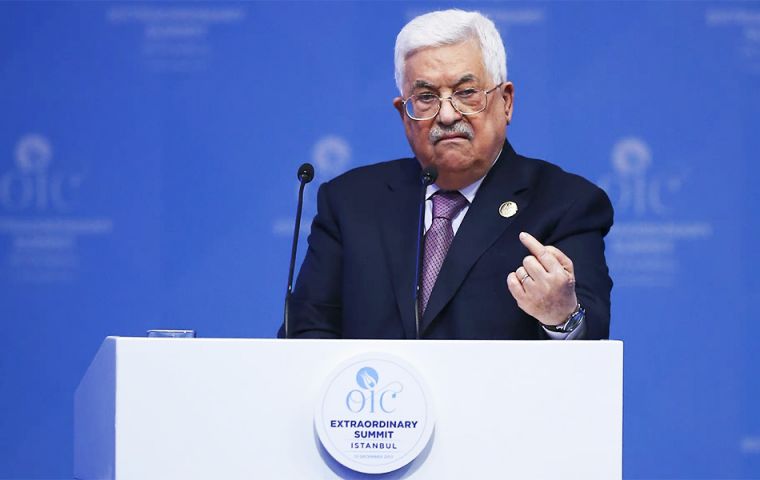 The leaders of 57 Muslim nations have called on the world to recognize "the State of Palestine and East Jerusalem as its occupied capital". An Organization of Islamic Co-operation communiqué declares US President Donald Trump's decision to recognize the city as Israel's capital as "null and void". It also says the move has signaled Washington's withdrawal from its role in the Middle East peace process.
Palestinian President Mahmoud Abbas earlier said the UN should take over. In a speech to the OIC summit in Istanbul, Mr Abbas said it would be "unacceptable" for the US to be the mediator "since it is biased in favor of Israel".
The Palestinians had engaged with the Trump administration in an attempt to agree "the deal of the century", he noted, but had instead "got the slap of the century".
The Palestinians claim East Jerusalem as the capital of a future state, and its final status is meant to be discussed in the latter stages of peace talks.
Israeli sovereignty over Jerusalem has never been recognized internationally, and all countries currently maintain their embassies in Tel Aviv. However, President Trump has announced that the US will eventually move its embassy.
The communiqué issued by OIC member states says they reject the unilateral decision by the US to recognize Jerusalem as Israel's capital as "null and void legally" and consider it an "attack" on the rights of the Palestinian people.
They accuse the US of "deliberately undermining" peace efforts and warn that it has given "impetus to extremism and terrorism".
They say Washington will be held "fully liable for all the consequences of not retracting from this illegal decision" and that it has effectively announced its "withdrawal from its role as sponsor" of the Israeli-Palestinian peace process.
They then invite all countries to "recognize the State of Palestine and East Jerusalem as its occupied capital" and ask the UN to assume its responsibilities and reaffirm the city's legal position.