EU bureaucracy ready to sign deal with Mercosur, but France and Ireland object
Sunday, December 24th 2017 - 17:21 UTC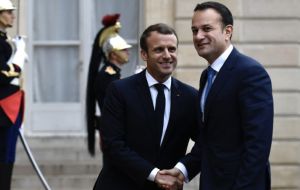 The European Union now hopes to conclude a trade deal with the Mercosur bloc by February next year. EU agriculture chief Phil Hogan admitted that there were still 15 "open issues", following a "difficult" meeting with the Mercosur countries in Buenos Aires last week.
"Mercosur talks were quite difficult," Mr Hogan said, "but we feel we have made progress and hopefully that we can conclude successfully a deal, provided that all our conditions are met, in February 2018."
EU-Mercosur trade talks had effectively stalled as the two sides battled it out over agri-food quotas after an October EU offer on beef.
Taoiseach Leo Varadkar and French president Emmanuel Macron, who are leading the charge against the beef offer, both spoke out against it at a meeting of EU leaders in Brussels.
Spain and Portugal want to "press ahead" with a deal, Mr Varadkar said, and a deal was "something that the Irish government would support but we have a particular issue, as does France, around the beef and veal industries".
"We want to make sure that that is protected and also that standards are upheld — food safety standards, animal welfare standards, labeling, traceability… all of those things that are important to the safety of food supply," Mr Varadkar said.
EU trade chief Cecilia Malmström wants to ink a deal this year — or at the latest by March next year — which would likely entail a bigger beef offer than the 70,000 tons currently on the table. Mr Varadkar met with Ms Malmström's boss, Commission vice-president Jyrki Katainen, in Brussels to discuss the deal.
The talks broke down on the margins of a World Trade Organization conference on December 10, with Mercosur countries — Argentina, Brazil, Paraguay and Uruguay — keen to get a higher beef offer, as well as lock in high export quotas for sugar and ethanol.
Mr Hogan flew to the WTO conference in Buenos Aires to try to keep a lid on the offers, but farmers' groups still fear it will go up.
Last year a European Commission report found that a boost in Mercosur beef imports would slash EU beef prices by up to 16%, costing producers around €5bn a year. And European meat producers say Brexit will lead the EU's remaining members to 116% self-sufficiency in beef.