Relatives and friends honor 132 police officers killed in Rio de Janeiro in 2017
Friday, December 29th 2017 - 09:57 UTC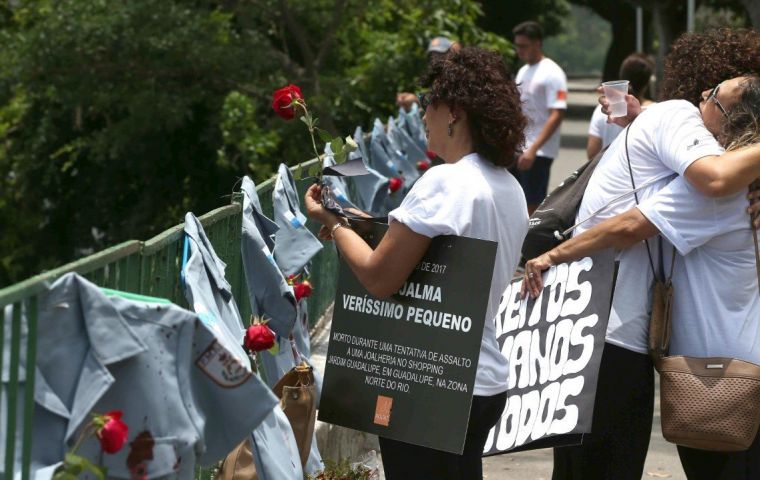 Relatives and friends of some of the 132 police officers killed in Rio de Janeiro this year have taken part in a protest to honor their loved ones. It was organized by human rights NGO Rio de Paz. Police uniforms stained with red paint and red roses in their pockets were hung alongside plaques with the names of the officers killed in 2017.
Roses were placed on police uniforms stained with red paint to symbolize the deaths, and plaques with the names of the slain officers were hung on a fence along Rio's Rodrigo de Freitas lagoon.
Rio de Janeiro has seen a surge in violence this year, with shootouts between police and criminal gangs becoming a regular occurrence.
While some officers have fallen during confrontations, more have been killed when not on patrol. Rio state police estimate that 80 of the slain officers were off-duty.
The number of people killed by police in the state reached 1,035 in the eleven months between January and November.
On top of rising crime and powerful drug gangs that control large areas of the city, this year police faced budget cuts caused by the state government's financial crisis. Many relatives blame the poor working conditions for the killings.