UK's foreign aid will go to projects that promote government aims and interests
Tuesday, January 2nd 2018 - 06:33 UTC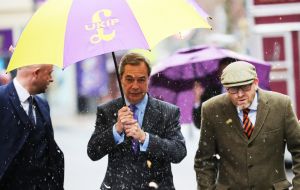 The UK's aid budget will be shifted to projects that promote its interests, the foreign secretary Boris Johnson said underlining the money will be "more sensibly distributed" to support foreign policy aims such as denying safe havens to Islamist militants.
His comments came as Penny Mordaunt, the international development secretary, said the UK will provide a £21m boost to an emergency aid fund. The UK currently spends £13bn on aid each year.
Speaking to The Times newspaper, Mr. Johnson said "the old jam jars are being smashed" and money would be diverted to support government aims, including combating terrorist groups in Africa. It would also go to help refugees in Yemen and Rohingya Muslims fleeing across the Burmese border into Bangladesh, he added.
The British government is committed to spending 0.7% of national income on overseas aid but some politicians oppose such spending.
Conservative backbench MP Peter Bone has said the target "means that important things at home like social care are struggling," while Ukip have called for the aid budget to be cut by 80% and focus only on emergency responses and eradicating disease.
Labour backs the 0.7% target, saying global poverty reduction is itself in the UK's interest.
In January, the British government scrapped plans to fund an Ethiopian girl band as part of a project to promote women's rights. It said there were "more effective ways" to invest UK aid.
Johnson said the UK would gain more control of its aid spending after Brexit. About £1bn of the money the UK pays to the EU budget counts as part of the foreign aid budget.
The EU spends that money on humanitarian aid and on emergency responses to world crises, as well as on projects in countries close to the EU and those hoping to join in the future.
Ms Mordaunt said that the extra £21m for the United Nations' Central Emergency Response Fund (CERF) was needed because 2018 could be "even bleaker" than this year, with its "harrowing" humanitarian crises.
The money will help to provide millions of people with food, clean water, sanitation and vital health services.
More than 40% of the UK foreign aid budget went to multilateral organizations, such as the United Nations, who fund big projects like disaster relief, while the remaining 60% goes directly to developing countries.