Lack of rainfall in Buenos Aires province affecting soy planting and prices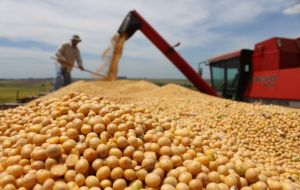 Argentina's bread-basket province of Buenos Aires will remain mostly dry over the days ahead, meteorologists said on Tuesday, after reporting scant rains over the weekend in the country's biggest and most productive farm area.
The drought in some parts of Buenos Aires province has put upward pressure on international soy prices, on supply worries. Argentina is the world's top exporter of soy-meal livestock feed and its third biggest supplier of raw soybeans.
"In most of Buenos Aires the rains were slight to non-existent," Natalia Gattinoni, a meteorologist with the state-run INTA farm technology institute said in reference to the weekend and Monday.
Chicago Board Of Trade March soybeans were down. Losses were kept in check by concerns that the low rain and high temperatures in Argentina will limit the size of the country's harvest.
As of late last week Argentine farmers had planted 82% of the soybeans expected to be sown in the 2017/18 crop year, according to the Buenos Aires grains exchange. The amount of the remaining seeding to be completed will depend on fields being moist enough to be planted.
The Rosario exchange expects a 2017/18 soy harvest of 54.5 million tons.
"There is going to be some drought damage, but it's not a disastrous season. The area most affected will possibly be the southwest part of Buenos Aires and (the province of) La Pampa," said Eduardo Sierra, climate advisor to the Buenos Aires Grains exchange.