Russian navy's "Yantar", oceanographic or state of the art "spy vessel"?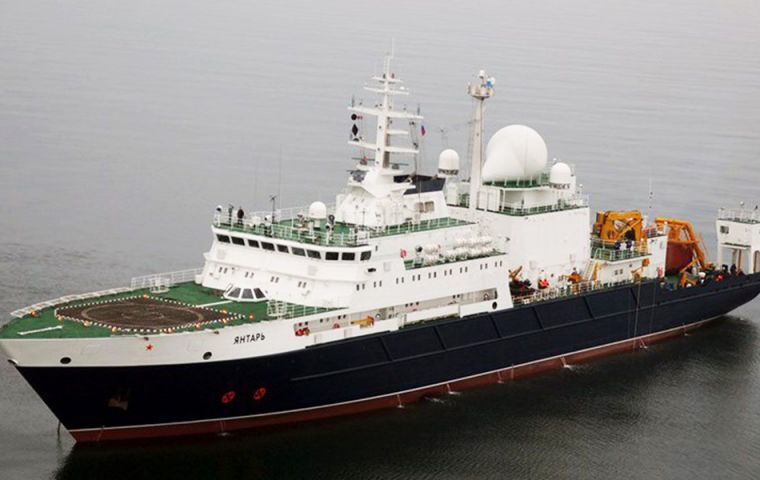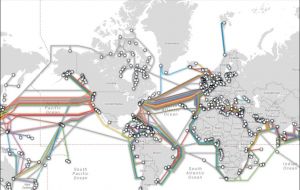 The Russian navy is very proud of its new spy ship, the Yantar, which is now doing Argentina a favor by helping to search for a missing submarine, ARA San Juan, which disappeared on 15 November in the South Atlantic.
According to a BBC report, the Yantar, officially an oceanographic research vessel, actually bristles with surveillance equipment, and the mother ship for manned and unmanned deep-sea submersibles. A Russian ROV - remotely operated underwater vehicle - is scouring the ocean floor off Argentina. But what else has the Yantar (Russian for "amber") been up to?
The Yantar's movements were apparently what prompted a warning last month from the UK military that Russia could disrupt or cut vital undersea communications cables and she is described as an intelligence gathering vessel.
The chief of the UK defense staff, Air Chief Marshal Sir Stuart Peach, said that such a strike against internet and other communications cables could be "catastrophic".
Dozens of fiber-optic cables span the globe and Nato also has dedicated military cables on the ocean floor. The Yantar is capable of tampering with them, says Igor Sutyagin, a London-based expert on the Russian military. But there is no evidence that it has done so.
"It's difficult to tap into optical fibers - it's just light inside, not electrical data," he told the BBC. "It would be easier just to cut the cable."
Mr. Sutyagin noted that in the 1970s, during the Cold War, the US Navy had lost control of a Sosus undersea listening post for tracking submarines in the Atlantic. Sosus stands for "Sound Surveillance System". The US military concluded that a Soviet submarine had cut the cables.
In the same period the US military, reports say, planted listening devices on Soviet undersea cables in the Sea of Okhotsk, where Soviet submarines were based.
A news report from the Russian parliament says the Yantar can do just such clandestine work, using deep-diving submersibles.
"The Yantar has equipment designed for deep-sea tracking, and devices that can connect to top-secret communications cables", said Parlamentskaya Gazeta (in Russian) last October.
Mr Sutyagin, of the Royal United Services Institute, says the Yantar belongs to Russia's Main Directorate of Underwater Research (GUGI in Russian), part of the defense ministry.
The 108m-long vessel has a crew of 60 and went into service in 2015. It was built in the Baltic port of Kaliningrad in 2015, the first in a series called Project 22010. A second, called Almaz, will soon be on its way to the navy.
Russia already has several older spy ships. In April. one of them, the Liman, sank off the Turkish coast after being breached in a collision with a freighter. All its crew were rescued. The Yantar can deploy the three-man submersibles Rus and Konsul, which can dive to about 6,000m (20,000ft).