Brazilian Industry minister steps down; he's expected to run for Congress
Thursday, January 4th 2018 - 09:34 UTC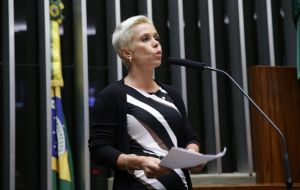 Brazilian Industry Minister Marcos Pereira resigned on Wednesday, becoming the third cabinet minister to quit in a month.
A few hours after Pereira stepped down, the leader of the government-allied Brazilian Labor Party, Roberto Jefferson, said his daughter, federal Congresswoman Cristiane Brasil, would become the next Labor minister.
Pereira, who posted his resignation letter on his verified Facebook page, is expected to run for Congress in October for his Brazilian Republican Party.
In his resignation letter he cited "personal and party" reasons for leaving the job and thanked President Michel Temer for the posting.
Under Brazilian electoral legislation hopefuls must step down six months before the election, which are scheduled for next October. The Brazilian people will vote for a president, the renewal of the Lower House, 513 seats, and a third of Senate benches.
More ministers are expected to step down before next April, since thirteen of the current 28 cabinet members have aspirations to return to Congress. So far four have stepped down, Bruno Araujo, Cities minister; Antonio Imbassahy, cabinet secretary; Ronaldo Negreira, Labor minister, and now Marcos Pereira.