Drought in north Argentina seriously delaying plating of soy and corn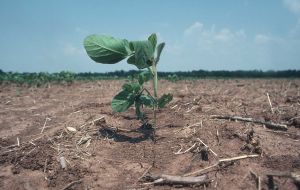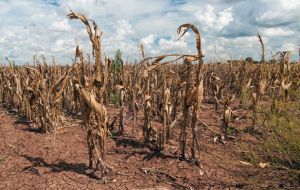 The drought in Argentina continues in several regions and has generated a delay of planting for the 2017-18 season. A report authored by the institution AgroEducación indicated that La Niña, though subtle, already impacts the region with temperatures above normal and scarce rains.
The planting of soybeans in Argentina, the largest producer following the U.S. and Brazil, covered just 72% of the 44.7 million acres estimated for the current crop. For Pablo Pochettino, a grain broker at Intagro in Buenos Aires, this is the slowest planting in Argentina's history.
The problem seen by experts is that there are still nearly 12.8 million acres to be planted and 40% of this surface corresponds to northern Argentina, which has wide areas of drought. In addition, there is need for urgent recovery because the planting window closes in the middle of January.
For corn, the perspective is similar. There is a historic delay of the corn planting with only 6.1% of the area planted of the projected 13.3 million acres.
"The lack of moisture on the surface in the far north of the country includes multiple fields. Also, because the crops are up against key planting dates for peak yields, the plot thickens with the current climate conditions," says the AgroEducación report.
In a conversation with Agriculture.com, Carlos Pouiller, national director for market studies at Argentina's Ministry of Agriculture, said that the weather-driven market will be a big factor for January and February. Regarding the crop sales and the gradual reduction of export taxes on soybeans of 0.5 percentage points per month that starts now in January, Pouiller expects a slow market.
"Producers will be cautious throughout 2018, but I believe that sales will be increased in the middle of the year," says Pouillier.
"What is concrete is that until now [as of December of 2017], there are more forward sales than in the previous cycle. That is 6.57 million metric tons in this cycle and 4.48 million metric tons in the previous cycle," he added.
More and more crop pressure problems with plagues and caterpillars have been seen in Argentina. The Asian Rust on soybeans was reported for the first time to have survived the winter in the country in 2017, according to the country's National Institute of Agricultural Technology. This was reported in the province of Misiones, which borders the state of Paraná in Brazil. So far, the Asian Rust has not generated so much loss in Argentina as it did in Brazil.