Ex King Juan Carlos honored at military ceremony for his many years of "loyal service to Spain"
Sunday, January 7th 2018 - 09:07 UTC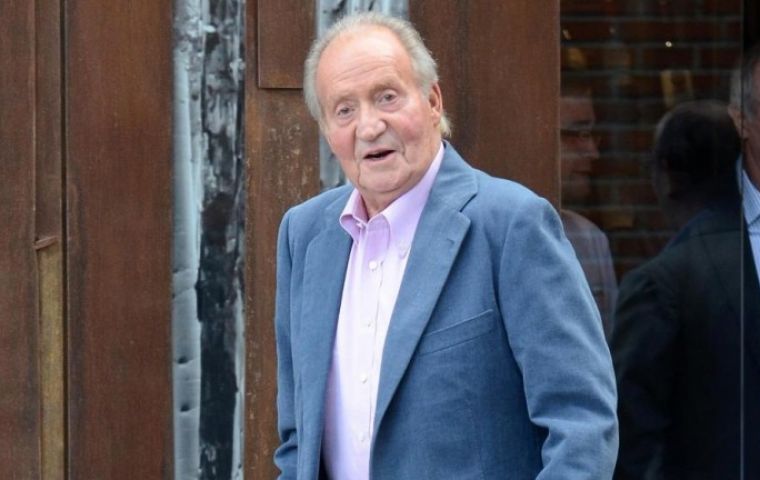 Former Spanish King Juan Carlos appeared in full military garb alongside the current monarch, his son King Felipe VI, for the military ceremony at the royal palace in Madrid on Saturday. Joined by their two wives, the royals marked the annual Pascua Militar, which is held on January 6, the same day as Epiphany.
It was the first time the former and current king had been seen together at a public event for several months, and followed gripes by the 80-year-old ex-monarch that he has been left on the sidelines.
It also marked a return to public life for Juan Carlos, who is credited with successfully guiding Spain through the transition from dictatorship to democracy, but who abdicated in 2014 following a series of scandals.
Paying tribute to his father, King Felipe VI thanked the former head of state for "so many years of loyal service to Spain" and for the "example" he has set the rest of society. Felipe also congratulated his father on turning 80 on Friday.
Juan Carlos was markedly absent from an event in June marking 40 years since the first democratic elections since the dictatorship of Francisco Franco, who died in 1975. Juan Carlos had threatened to celebrate his 80th birthday abroad if he was left on the sidelines.
Some royal watchers said it was important for the Spanish royal family to show unity following the attempt by the wealthy region of Catalonia to declare independence from Madrid's rule.
The move saw Spain's Prime Minister Mariano Rajoy suspend the region's government and autonomy, and call snap elections, the results of which have only bolstered pro-separatist parties, despite many of their leaders either in jail or in exile.
Spanish media said the military ceremony was one of several events scheduled this year to pay tribute to Juan Carlos and his wife Sofia. The former king's reputation for holding Spain together during times of crisis fell apart when reports about his lavish lifestyle drew widespread public anger at the height of the country's deep economic crisis, which began in 2008.
On one occasion, he went on a luxury elephant hunt in Botswana. The revelation caused public upset as hundreds of thousands of Spaniards were losing their jobs and homes.
His daughter Princess Cristina was embroiled in a corruption and tax fraud investigation along with her husband Inaki Urdangarin, who was since found guilty of siphoning off millions to fund a lavish lifestyle. Cristina was acquitted.
In January 2014, Juan Carlos asked for his abdication to be allowed to take place after making repeated mistakes during a speech at the same military ceremony. He stepped down in June that year, passing the mantle to his only son Felipe VI, who has sought to distance the monarchy from such controversies.