Governor Maria Eugenia Vidal fighting corruption and graft in Buenos Aires province
Tuesday, January 9th 2018 - 07:54 UTC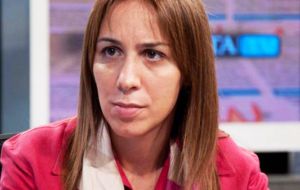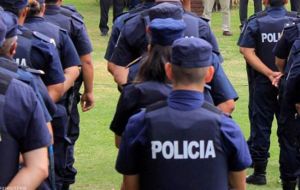 Buenos Aires province governor Maria Eugenia Vidal said that the union boss arrested in Uruguay is one of "the many Balcedo and Caballos Suarez", who before were protected, and today are behind bars".
She was referring to Marcelo Balcedo arrested at his 20 acres mansion in Maldonado, living like a prince surrounded with cash, expensive cars, arms and jewels, and now waiting to be extradited to Argentina. Omar "Caballo" Suarez is head of the maritime union and in under arrest in La Plata on charges of fraud, extortion, racketeering and money laundering.
Governor Vidal also mentioned that 7.900 members of the provincial police force have been sacked for involvement in corruption acts. "This is not a purge, it's official policy, we're cleaning the force, but this is not seen or reported daily. But certain characters such as Balcedo and Suarez make it to the news, they head mafiosi groups, who nowadays are in prison but before were protected", in direct reference to her predecessor in the job, ex Kirchnerite governor Daniel Scioli.
"Things are happening all the time, things people are not aware of, but we are advancing. What makes me happy is that we are working and advancing," said Ms Vidal, who also underlined that beaches along the Atlantic coast are now totally free, open to all those wishing to bask, which had lately been curtailed and taken over by some unions.
Ms Vidal added that "there's still much to be done, but we are on the move, we've started public works, 2.200, in all councils, and there's not a single neighbor that can say that in his council nothing has been done or is under construction".
The governor of Buenos Aires rules over the largest electoral district in Argentina, with 35% of the registered vote and, a district crucial for winning any national election. Traditionally it has been the turf of the Peronist movement who use to control 123 councils, but in 2015, Ms Vidal managed a surprise victory and since then has been climbing in the approval opinion polls. Furthermore she has become more popular than president Mauricio Macri.
Divorced, she lives with her family in an Army barrack, given the numerous death threats and warnings she has received particularly since she launched her campaign to clean the provincial police (55.000 members), to combat the influence of unions and to weed out the bureaucracy.