Blue tongue outbreak among sheep in Brazil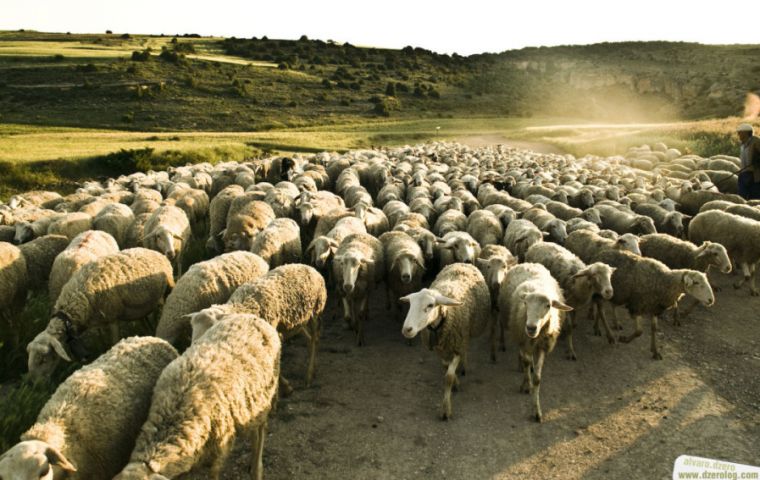 Uruguayan animal health authorities are on the alert following the outbreak of a blue tongue focus among sheep in south Brazil. The outbreak has been located in Santa Maria, in central Rio Grande do Sul, and Uruguay's Agriculture and Livestock ministry has strengthened controls along the border which divides the rich farmland region.
"Blue tongue" is a non-contagious, insect-borne, viral disease of ruminants, mainly sheep and less frequently cattle, goats, buffalo, deer, dromedaries, and antelope. It is caused by the Bluetongue virus (BTV). The virus is transmitted by the midge Culicoides imicola, Culicoides variipennis, and other culicoids.
Major signs are high fever, excessive salivation, swelling of the face and tongue and cyanosis of the tongue. Swelling of the lips and tongue gives the tongue its typical blue appearance, though this sign is confined to a minority of the animals. Nasal signs may be prominent, with nasal discharge and stertorous respiration.
Carlos Fuellis, head of Uruguay's Animal Health Ministry Division said the disease is not contagious, but can be transmitted by vectors, such as mosquitoes. Abundant nasal discharges, profuse salivation are symptoms particularly among sheep and goats, but can also infect wild hoofed animals.
Vet Fuellis said blue tongue can cause abortions among pregnant ewes, "but the most serious consequence is commercial since many markets can be lost when an outbreak of the disease is reported", so it is crucial to be alert.