Falklands concern with vast fishing fleet gathering on high seas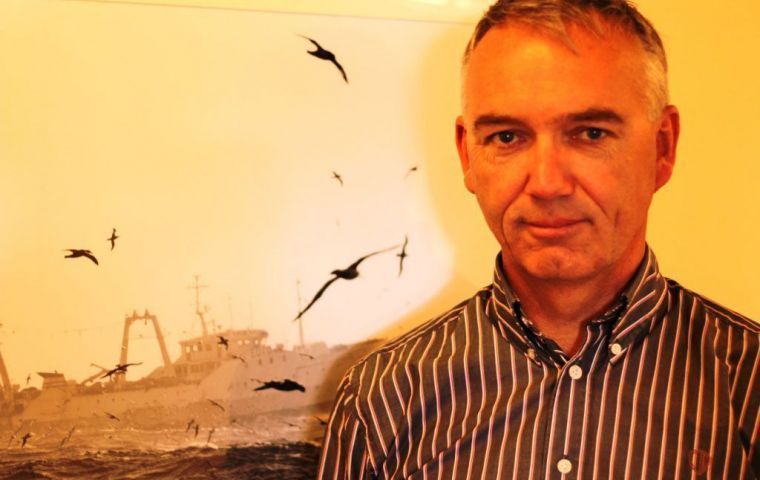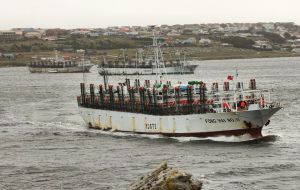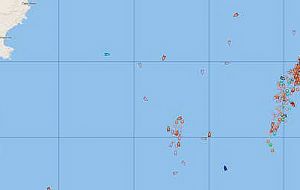 A vast fleet of fishing vessels assembling to catch Illex squid on the high seas, some 400 miles north of the Falkland Islands, is an issue of concern to the Falkland Islands Fisheries Department.
Director of Natural Resources John Barton confirmed to Penguin News this week that the fleet had been out there from an early date and was likely to be catching small squid as well as having the capacity to catch a great deal of squid.
This could, of course, impact on Falklands fishery catches. The vessels arriving early in the season are largely Chinese and they are now being joined by some Falklands Islands licence customers, so the fleet is growing.
There are 200+ vessels fishing outside the Argentine EEZ in the vicinity of 45ºS.
The Falkland Islands Illex fishing season starts on February 15 2018 and the level of fishing effort is unchanged from recent seasons at 105 jiggers and one trawler with Illex licenses, said Mr Barton.
Although the seasons starts on the above mentioned date: "It depends how far and fast the Illex migrate south whether vessels start fishing as the season opens or if it is a slower start as sometimes happens."
Asked what was anticipated for this season he said: "Predicting the season is difficult as even if the abundance of squid is good, the factors which influence migration and distribution can have a big impact on whether it is a good season for the Falklands or not. "
"The 2017 season at some 67,000 tonnes was a low season in terms of catch, although I believe that was compensated for to some degree by higher prices." Illex is worth around £6.3 million per annum to the Falkland Islands 2014 and 2015 were bumper years with catches of 300,000 and 350,000 tons.
Illex in a good year is worth around £11million in licence fees to the Falklands government. However in bad years licence fees are usually refunded.
Putting together all income from fishing licences, a reasonably lucrative year would raise around £21.5million. That includes the two squid licence fee figures plus finfish licences as well as access fees and corporation tax.
Falklands fishery - Falklands waters are noted for their high productivity, and for the sustainable management of the fisheries. Squid usually account for around 75% of annual catches of some 200,000 tonnes, and are destined for markets in Europe and the Far East. The remainder of the catches consists of various finfish species including Rockod, Hake, Hoki and Toothfish. 50% of all Calamari in EU is from Falkland Islands.
Illex argentinus squid are fished principally by specialist squid jigging vessels from the Far East.(Penguin News).