Farage willing to a second referendum to end anti-Brexit "whinging and whining"
Friday, January 12th 2018 - 10:36 UTC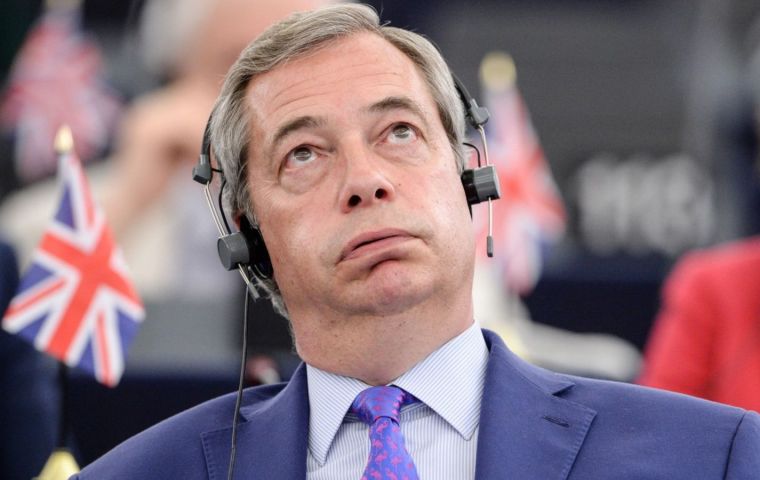 Former UKIP leader Nigel Farage says he is close to backing a second EU referendum to end the "whinging and whining" of anti-Brexit campaigners. Mr Farage told Channel 5's The Wright Stuff a fresh vote could "kill off" the Remain campaign for a generation.
He later clarified his remarks saying it was the "last thing" he wanted but Leave voters had to be prepared and he was confident they would win again. Pro-EU campaigners said "support is growing" for another referendum.
And co-founder of the Leave.EU referendum campaign group, Arron Banks, said that to avoid sleepwalking "into a faux Brexit" people should "go back the polls and let the people shout from the rooftops their support of a true Brexit".
But Mr Farage's former UKIP colleagues dismissed his suggestion. And Downing Street said: "We will not be having a second referendum."
Mr Farage was one of the leading figures in the Leave campaign, which won the referendum with 51.9% of votes. The result in June 2016 means that the UK is leaving the European Union, with the date for departure set as 29 March 2019. Negotiations are currently taking place between the UK and the EU about a post_Brexit relationship.
During a debate about Brexit on the Channel 5 program, Mr Farage said: "What is for certain is that the [Nick] Cleggs, the [Tony] Blairs, the [Lord] Adonises will never ever, ever, give up. "They will go on whinging and whining and moaning all the way through this process.
"So maybe, just maybe, I'm reaching the point of thinking that we should have a second referendum on EU membership... and we may just finish the whole thing off.
"And Blair can disappear off into total obscurity."
He said "the percentage that would vote to leave next time would be very much bigger than it was last time round". His UKIP colleagues did not agree: No, no, no!
By doing this we would be giving the anti-democratic re-moaners such as Blair, Clegg, Adonis a moral victory. Rest assured they would never give up, even after 3,4,5 referenda.
The party's former deputy chairwoman Suzanne Evans described his comments as "epically stupid".
"Even putting aside the astronomical and completely unjustified public cost of a second referendum, Farage's comments are an open goal for the Remain camp," she wrote on the Brexit central website. But the other side of the Brexit debate were more enthusiastic.
Labour MP Chuka Umunna, of the Open Britain campaign for close ties with the EU, said: "For perhaps the first time in his life, Nigel Farage is making a valid point. In a democracy like ours, the British people have every right to keep an open mind about Brexit."
The Lib Dems vowed that in any referendum, they would be "leading the charge" to keep Britain in the EU.
The party's Brexit spokesman Tom Brake said: "But Farage shouldn't be so confident of winning, people are now far more aware of the costs of Brexit and the fabrications of the Leave campaign.... what will the Leave campaign bus have written on it next time: 'let's not fund our NHS, but pay a £39bn Brexit divorce bill instead'?"
Speaking on his LBC radio show later on Thursday, Mr Farage said that his meeting with Michel Barnier in Brussels on Monday had convinced him that the EU's chief Brexit negotiator was "not going to give us a good deal."
He believed it would be rejected by Parliament, where he counted more Tory rebels than Labour Brexiteers ready to defy their own side.
"I am saying this to Leavers: Don't be complacent," he said. "There may well be one last dramatic battle that will take place in all this".