Four churches attacked in Santiago ahead of Pope Francis visit to Chile on Monday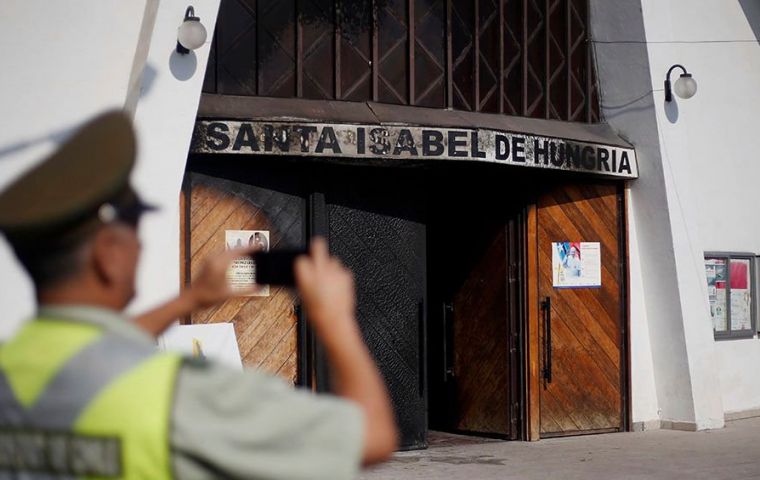 Four Catholic churches in Santiago were attacked with fire bombs before dawn on Friday, causing minor damage and leaving notes threatening Pope Francis just three days ahead of the pontiff's visit to Chile next week, police said.
The attackers who are yet to be identified, set fire to at least two of the churches in the nation's capital city and tossed pamphlets in the street as they fled. One of the pamphlets read: "Pope Francis, the next bomb will be in your robe," authorities said.

A fourth church was attacked with what appeared to be an explosive device, but no damage was sustained. No one was hurt in any of the attacks, authorities said.
Chilean police said they were investigating the incidents but had not yet identified suspects.
"In a democracy, people can express themselves as long as it's done in a pacifist way," Chile President Michelle Bachelet said in a radio interview on Friday morning. "What happened last night is very strange. It's not something that we can tie to a particular group."
The Vatican did not immediately react to the incident.
Several other churches have been attacked in recent years in south-central Chile. Most of those cases remain unresolved.
Francis, who was born in Argentina and is the first Latin American pope, will arrive in Chile on Monday. A Mass he has planned to hold on Tuesday in a Santiago park is expected to attract more than 500,000 people.
Protests are expected on issues ranging from indigenous rights to an ongoing sexual abuse scandal in the Church and national controversy over abortion.
Francis will also visit the south-central city of Temuco, and Iquique, which is farther north, before heading to Peru, where he will stop in Lima, Puerto Maldonado and Trujillo.