Brazil forecasts 110m tons of soybeans and 25m tons of corn in 2017/18 harvest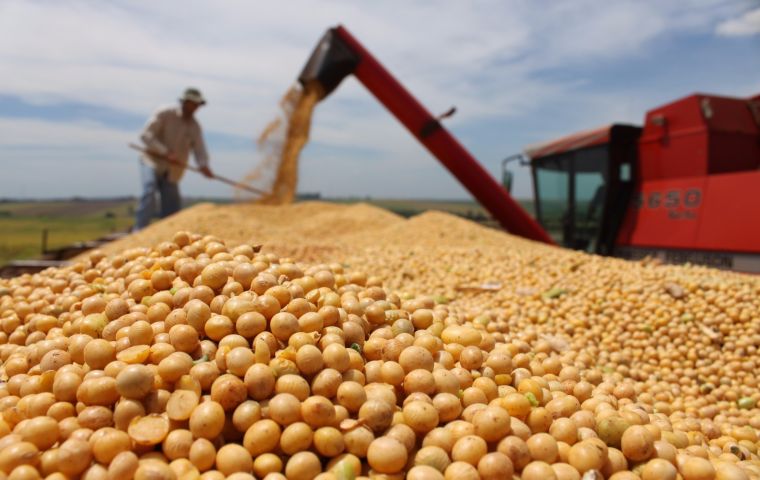 Brazilian official crop agency Conab has raised its crop estimates for soybeans and corn in 2017-18, as improved weather boosts yields and planted areas are revised higher.
Conab said in a monthly report that the current soybean crop, which was already planted and is under development, will reach 110.44 million tons, up from 109.18 million tons in December but still below the record of 114.08 million tons in 2016-17.
Brazil is the world's largest soybean exporter and its production is second only to the US. The area planted with soybean in Brazil was increased to 34.99 million ha, up from 34.96 million ha in December and from 33.91 million ha in 2016-17, according to Conab.
Yields are now seen at 3,156 kg/ha, up from 3,123 kg/ha in December, but below the record of 3,364 kg/ha in 2016-17, when nearly perfect weather helped crops.
Sowing in 2017-18, which started officially in mid-September, was initially hampered by insufficient rains in many areas, like Mato Grosso, the main grains state in Brazil. It harvests about as much soybeans as Iowa and Illinois combined. Precipitation improved in November and December, cutting down concerns about any relevant loss.
"Favorable weather indicates yields in line with the historical average productivity in Mato Grosso," Conab said in its report. It added a few areas of the state have started an early harvest, but due to the delay in planting, a major part of the harvest in Mato Grosso will happen during January and February.
But Conab numbers could be considered conservative compared with some private estimates.
Consultancy AgRural said the Brazilian soybean crop will reach 114 million tons, up from 112.9 million tons in a report published in December and close to the record of 114.1 million tons in 2016-17. AgRural said the spike of 1.1 million tons in the expectation for the 2017-18 crop is attributed to higher yields in the Center-West and Southeast regions, as well as in Parana and Santa Catarina states.
"In those areas, rain in December and in early January benefited the crop during the flowering and pod setting stages," it said.
Conab also increased the estimate for Brazil's summer corn crop. It projected production at 25.18 million tons, up from 25.05 million tons in December, but down from 30.46 million tons in the summer of 2016-17.
Although yields have been fairly stable year on year, the summer corn crop area fell 9.2% compared with 2016-17, as many farmers decided to dedicate more area to soybeans, which has been more profitable and easier to sell in recent years.
Conab kept the area estimate for the winter corn crop -- which will be planted in the coming weeks, right after soybeans are harvested -- the same as the 2016-17 season. Usually the agency updates planted area numbers later in the season. Regarding winter crop yields, it considered the historical trend.
The production in the winter crop, often referred to as "safrinha," is seen at 67.17 million tons, unchanged from December and very similar to 67.38 million tons in 2016-17. The total corn crop is now estimated at 92.35 million tons, up from 92.22 million tons in the December report and below the record of 97.84 million tons in the previous season.
Conab numbers differ strongly from AgRural's figures, due to the methodology for the winter crop. AgRural said the summer corn crop is projected at 25.1 million tons and the winter crop at 59.2 million tons.
Unlike Conab, AgRural projects the area planted with corn in the winter period will be 11.2% below last year, mostly due to the delays in soybean summer planting -- which shortens the weather window for corn sowing in winter -- and to low corn prices.
AgRural now sees Brazil's total corn crop at 84.3 million tons, up from 84.1 million tons in December and 97.6 million tons in 2016-17.