First Minister Sturgeon: Brexit deal will decide second referendum on Scottish independence
Monday, January 15th 2018 - 10:25 UTC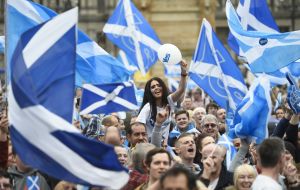 Nicola Sturgeon has said she will be able to make a judgment on whether to back a second referendum on Scottish independence by the end of this year. The first minister said her decision would be made when the shape of a deal between Britain and the European Union became clear in the autumn.
Her comments come ahead of the publication of a Scottish government assessment on the impact of Brexit. The UK government has accused the SNP of trying to undermine the Brexit vote. The SNP delayed plans for a new vote on independence following the loss of 21 MPs in last year's general election.
Speaking on the BBC Andrew Marr Program, the first minister said that people wanted to see clarity on the future relationship between the UK and Europe.
She added: "At that point, what I've said is that we will look at that and determine at that stage if Scotland should then have the right to choose between whatever that new relationship with the UK is going to be or choosing to be an independent country."
When asked if the timetable would be between October and the end of 2018, Ms Sturgeon responded: "That's when I will be able to look at that and make a judgment about what the next appropriate steps are for Scotland, and I will then report that to the Scottish Parliament and to the people of Scotland."
She was challenged to acknowledge that a decision to hold a second referendum then would not leave enough time for the independence vote before the UK's planned withdrawal from the EU in March 2019.
Ms Sturgeon said: "We'll make decisions on timing when we get to that point and look at that."
Ms Sturgeon was speaking as the Scottish government prepares to publish their assessment of the impact of Brexit on the Scottish economy. The first minister is adamant that Scotland should remain in the European Union single market and customs union after Brexit.
She said she believed that a majority in the House of Commons wanted to stay in the single market, including those in the Labour Party, who needed to "get their act together".
The paper will detail the potential impact on Scotland's GDP, trade and its potential to attract talent from out with the country. However, the UK government has already ruled out remaining part of the market.
The customs union is the European Union's tariff-free trading area, which imposes the same taxes on imports from certain countries outside the EU.