Vatican protocol message to President Macri when Pope overflew Argentina
Tuesday, January 16th 2018 - 10:09 UTC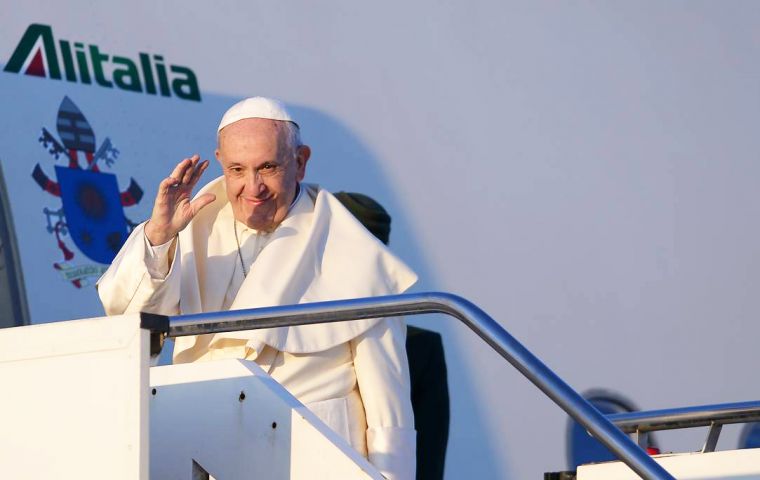 While overflying Argentine territory on Monday, in his trip to Chile for a three-day visit, Pope Francis sent his "warm greetings" to President Mauricio Macri and called on his fellow Argentines not to forget to pray for him, in his twenty second apostolic trip, which also includes Peru.
In a telegram sent to president Macri, Francis expressed his "closeness" and extended his blessing to all the Argentine people, but contrary to expectations there were no announcements and the message was drafted in a sober style and colloquial language, typical Vatican protocol. Earlier in the week the Vatican spokesperson Greg Burke anticipated the message would be "interesting".
"While overflying Argentine air space I extend to you my warm greetings and send my best wishes for all the people of my motherland, ensuring them of my closeness and blessings. I beg on all of you, please, not to forget to pray for me", said the telegram which was signed with the Latin version of Francis, Franciscus.
As is tradition each time the aircraft carrying the pope overflies a country, the Holy See prepares a message of salutation from the Catholic leader to the respective heads of State. In this case the sober text sent to Argentina came as a surprise since Jorge Mario Bergoglio never has returned to his country since he was appointed Pope some five years ago.
A few days ago in a meeting with the international media and in a reply to a specific question on why Francis has yet to visit Argentina, spokesperson Burke said that "such details must be left to the Pope", but underlined that when crossing Argentina air space the telegram would be "interesting". These words triggered some speculation.
Finally the telegram was normal Vatican protocol, similar to those addressed to the heads of state of the countries the Pope's aircraft overflew: Italy, France, Spain, Morocco, Cape Verde, Senegal, Brazil, Paraguay, Argentina and Chile.
In the case of Argentina, it was addressed to Your Excellency Mauricio Macri, President of the Argentine Republic in Buenos Aires.