Europe tells UK that "our hearts are still open", and hopes London will listen
Wednesday, January 17th 2018 - 09:25 UTC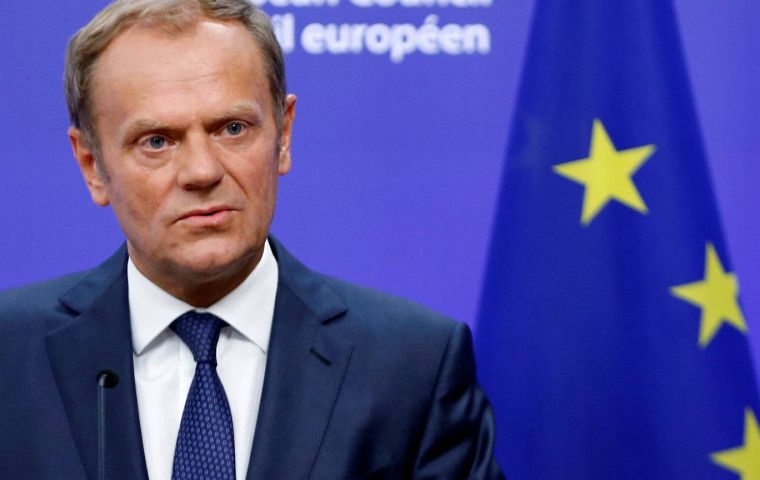 Europe's top two bureaucrats believe the UK could still yet change its mind on Brexit. Donald Tusk, the European Council president, said "our hearts are still open" to "our British friends" to remain in the bloc. And quoting the UK Brexit secretary, he added: "Wasn't it David Davis himself who said 'if a democracy cannot change its mind, it ceases to be a democracy'? We here on the continent haven't had a change of heart – our hearts are still open to you."
Jean-Claude Juncker, the president of the European Commission, also addressed the European Parliament in Strasbourg: "President Tusk also made some comments on Brexit, he said that our door remains open. I hope that will be heard clearly in London."
Unless there is a change of heart among our British friends, #Brexit will become a reality, with all its negative consequences, March next year. We, here on the continent, haven't had a change of heart. Our hearts are still open for you. — Donald Tusk (@eucopresident) January 16, 2018.
The pair spoke just hours after Boris Johnson reignited the Brexit bus £350m health service injection claim saying the slogan was a mistake – it was too low. The foreign secretary, one of the highest profile Leave campaigners, said the UK's weekly gross contribution would rise to £438m by the end of a post-Brexit transition period.
As speculation swirls of a possible second referendum, Johnson has insisted Leavers were right to make the claims for the NHS.
"There was an error on the side of the bus. We grossly underestimated the sum over which we would be able to take back control," he told the Guardian. "As and when the cash becomes available – and it won't until we leave – the NHS should be at the very top of the list," said Johnson.
His reassertion of the money that would become available for public services once the UK leaves the European Union came just days after arch Eurosceptic Nigel Farage conceded that a second vote could be the only way to shut down "Remoaners" for good.
However, he also said there was a real possibility that a second referendum could reverse the narrow 52-48 result of the first run. In the interview with the Guardian, Johnson said he doubted public appetite for a re-run but was confident Leave would win again if one was held.
He argued UK's contribution to Europe was already up to £362m per week for 2017-18 and would rise annually to £410m, £431m, and then to £438m by 2020-21 – "theoretically the last year of the transition period".