A second attempt to erect a statue of Margaret Thatcher outside Parliament looks set to fail
Thursday, January 18th 2018 - 08:20 UTC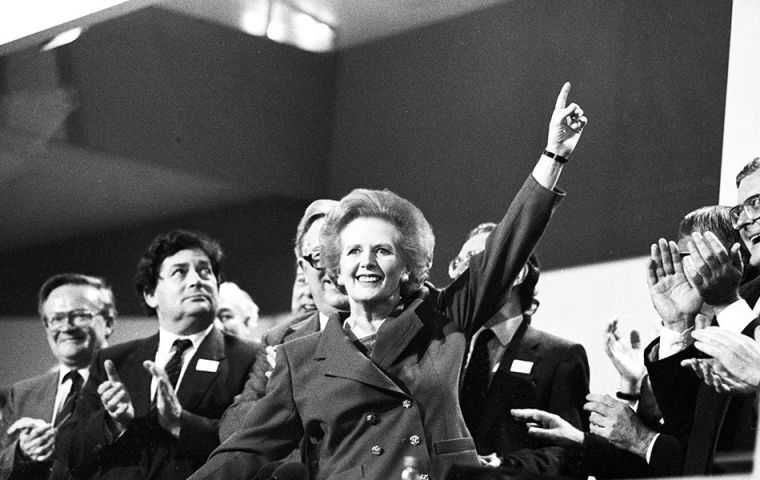 A second attempt to erect a statue of Britain's former Prime Minister Margaret Thatcher outside parliament, just six months after a first proposal was thrown out over vandalism fears, looks set to fail after officials recommended it be rejected.
The life-size-and-a-half statue of Thatcher by sculptor Douglas Jennings would be erected on a climb-proof four-meter plinth and could be quickly boarded up if needed.
"Sockets have been placed in the granite plinth to accommodate scaffold poles to allow the statue to be more easily encased in hoardings during demonstrations or other potentially sensitive times," Westminster City Council planning officers noted in a summary of the proposal.
Thatcher, who ruled Britain from 1979-1990, died after suffering a stroke in 2013. She was the country's first woman premier, its longest-serving prime minister of the 20th century, and won three consecutive national elections for the Conservative Party.
But her attempts to arrest Britain's post-war decline by smashing the trade unions and privatizing the country's national assets made her a deeply divisive figure.
Another sculpture of her was decapitated in 2002 at Guildhall Art Gallery in London by a man who attacked it with a metal pole.
The proposed new 300,000-pound (US$414,000) work was commissioned by the Public Memorials Appeal charity after Thatcher's death.
But council officials said objections had been received on the basis of possible vandalism, that the subject was too divisive to have a statue erected in her honor and that there was already a statue of Thatcher in the nearby House of Commons.
They recommended that the council's planning sub-committee reject the proposal when it meets next week on the grounds that it also contravenes guidelines on the number of statues in the area and the policy that 10 years should elapse between the death of a subject and the erection of a statue.
"The proposed statue should therefore only proceed if there is an exceptionally good reason to justify exemption to our normal guidance," they wrote.
If approved, however, it would be the second statue of a woman in Parliament Square after this year's planned unveiling of a monument to suffrage campaigner Dame Millicent Fawcett.