All cuts of Argentine beef and lamb have full access to the Chinese market
Thursday, January 18th 2018 - 09:11 UTC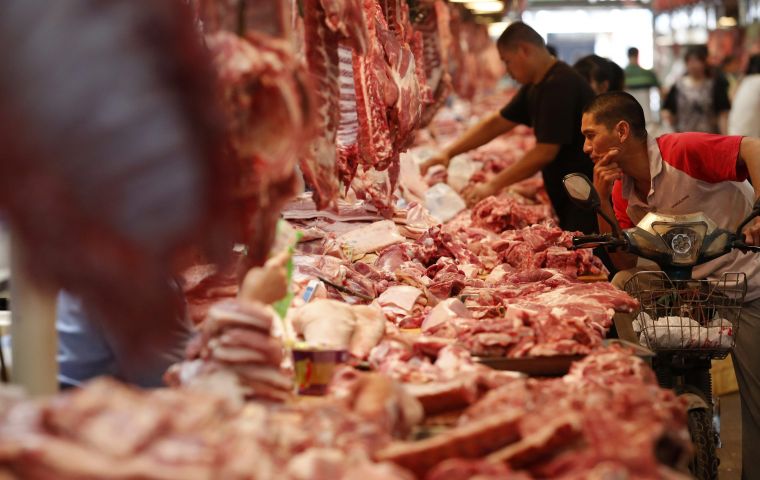 Argentina and China signed a "historic" agreement that opens the huge Asian market to beef and lamb with bone from the South American country, according to Senasa the Argentine agriculture and livestock sanitary office. The deal concludes fifteen years of negotiations and means access to the world's largest importer of beef.
"All types of Argentine beef will now have access to the Chinese market", announced the Argentine ambassador in Beijing, Diego Guelar following the signature of a sanitary protocol by the two countries animal health offices.
Until this agreement, Argentina only had access to China with frozen boneless beef, which are cuts of low price, nevertheless represented 50% of Argentine beef exports.
According to Beijing sources the first shipments of Argentine beef under the new protocol could be reaching China during this first semester and should be able to participate in the major Imports Expo that takes place in November in Shanghai.
"Many hotels and restaurants are demanding high quality beef and Argentine produce it the right choice", said Zhai Chengyu, Trade attaché at the Chinese embassy in Buenos Aires.
The agreement follows the opening of the Chinese market to Argentine, peas, blueberries and pulses. Last August China also agreed to imports of soybean cooking oil and sometime in the near future should be accepting Argentine honey.
China is Argentina's main market for its meat exports, some 86.500 tons in 2017, and mostly low cost cuts. This compares with its second market, Chile which absorbed 25.000 tons. In 2017, Argentine beef sales to China were 75% higher than in 2016 and is currently exporting some US$ 35 million per month, which is expected to increase considerably with the new opening.
During the Kirchner years, Argentina's meat cattle rodeo dropped considerably given the export taxes and frozen domestic prices, but with current president Mauricio Macri farming has been boosted and promoted, and Argentina in a couple of years could be recovering its place among the world's leading exporters of meats, beef, lamb, pork and poultry.