Catalonia parliament speaker in round of talks to decide on Puigdemont's future
Friday, January 19th 2018 - 10:01 UTC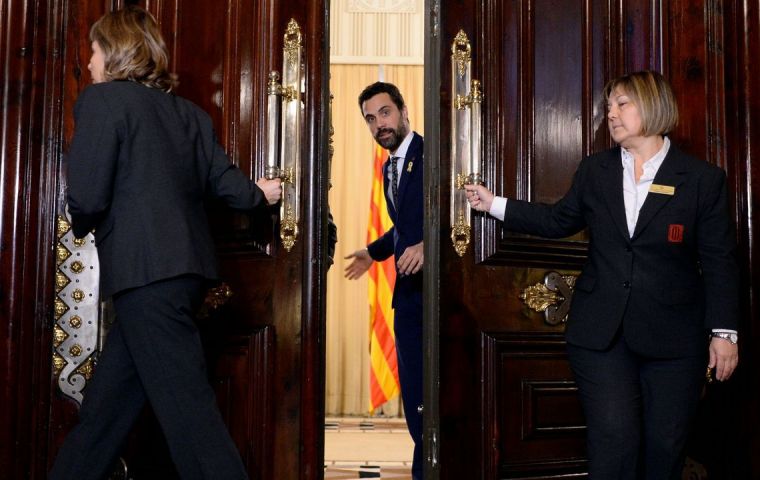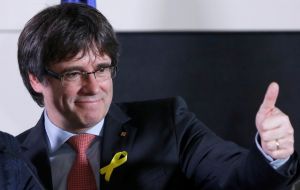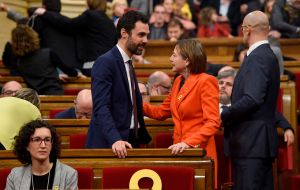 The new pro-independence speaker of Catalonia's parliament on Thursday started meeting party representatives to pick a regional president, with exiled former leader Carles Puigdemont in the lead for the post.
The central government in Madrid has already warned it will keep direct control over Catalonia if Puigdemont tries to govern from Belgium, where he and other ousted ministers fled after declaring independence from Spain in October.
On Wednesday, the region's separatist block regained control of the Catalan parliament following the assembly's dissolution on October 27 by Prime Minister Mariano Rajoy in response to the breakaway attempt.
Fresh from a victory in December elections that gave them an absolute majority in parliament, separatist lawmakers elected Roger Torrent of the left-wing, pro-independence ERC party as speaker. Four out of seven of his deputies are also pro-independence.
Their next step is to regain control of the government with Puigdemont as their leader. Torrent, 38, who gave a conciliatory first parliamentary speech on Wednesday, is holding talks with all the different assembly groups to designate the candidate with most support.
He was scheduled to meet with the Socialists, who oppose independence, and Catalunya en Comu, the Catalan allies of far-left party Podemos, who are also against Puigdemont as candidate.
Puigdemont's Together for Catalonia list won the most votes in December within the separatist bloc, but he is in Brussels in self-imposed exile after escaping just days after the regional parliament declared independence.
He risks arrest on charges of rebellion, sedition and misuse of public funds for his role in the failed independence bid if he comes back to Spain.
He wants to present his candidacy and government program to parliament - a prerequisite to being voted in - remotely via video-link or by having someone else read it for him.
The Catalan parliament's legal experts, however, say the contender has to be physically present and Madrid has vowed to block him. But the final say lies in Torrent and his deputies, who will ultimately decide whether or not to allow it.
Last week, Torrent hinted that he would follow what the parliament's legal experts said. But his ERC party has said it will support Puigdemont as president.