Lula is no radical or a threat to stability: everyone won when he was president
Friday, January 19th 2018 - 09:01 UTC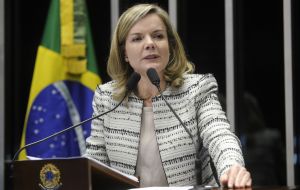 The leader of Brazil's Workers' Party, PT, argued in an interview that former president Luiz Inacio Lula da Silva is anything but radical and does not pose a threat to Brazilian financial stability. Brazilian senator Gleisi Hoffman told Bloomberg News that Lula is working on a second "letter to Brazilian people" (as he did in 2002) to reassure the markets about his commitment to fiscal responsibility.
"Lula could be considered anything, except a radical. Everyone won under Lula, including the financial sector," the senator said.
Although the former trade unionist leads opinion polls for this year's presidential elections, his criminal conviction could bar him from running, with the ex president scheduled to stand trial on 24 January on charges of money laundering and corruption.
Hoffman admitted that the party made mistakes during its 13 years in power, but argued that the financial crisis that sank the country into recession from 2014-2016 was triggered by a loss of tax revenue and not excessive public spending.
Nonetheless, as Silvana Batini, the Public Federal Ministry's prosecutor explained, Lula might still be able to run for president even if he is convicted to nine years of prison, by appealing to the Supreme Court which might grant him enough time to campaign.
Hoffman said that Lula's trial is a continuation of the democratic break that started in 2016, claiming it would be phase three of the coup d'etat launched against the democratic system. "The judiciary does not just want to stop Lula from running, it wants to block part of Brazilian society from voting," she said.
"What right do they have to do that?"