Falkland Islands geography a trap for pilot whales (*)
Monday, January 22nd 2018 - 09:44 UTC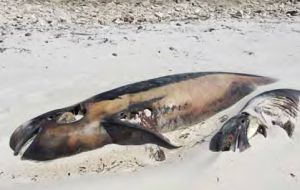 Sasha Arkhipkin, Senior Fisheries Scientist talks about mass strandings of pilot whales.
The geography of the Falkland Islands with many shallow water sandy beaches and strong winds makes them one of the most common natural traps of pilot whales in the Southern Ocean.
In the beginning of this year, Michael and Jeanette Clarke reported another mass stranding of pilot whales at one of their beaches on the northern coast of Lorenzo farm.
The Fisheries Department in close collaboration with Falklands Conservation and SAERI responded by organizing a research trip to the stranding site.
On January 13, fifteen volunteers made the arduous off-road drive through the soft and boggy north camp to the beached whales, generously guided by the farm owner Michael Clarke.
By this time, the whale carcasses had been exposed to weather and scavengers for more than a fortnight on the beach. However, their severely decayed condition, together with gusting winds and blasting sand did not discourage the team from sampling pieces of rotting muscle for genetic studies and teeth for ageing from all 46 stranded whales.
Their sizes ranged from a juvenile of 1.3 m long to a large bull male of 5.6 m long. The data obtained from these pilot whales will help to understand the kinship relations within the group, as well as to reveal their age structure.
We are grateful to the farm owner Michael Clarke for letting us know about the stranding, allowing access to the site and guiding the volunteers; and we hope this encourages other land owners to inform the Fisheries Department or Environmental Officer about these events in the future.
Why does it happen?
Pilot whales are particularly vulnerable to mass stranding. Periodically, groups of these relatively large black whales appear near shore well away from their normal deepwater habitats, become stranded on beaches and die.
Human attempts to rescue pilot whales are often unsuccessful, with saved animals showing their awkward determination to return to shallow water. The reasons of this odd behavior are not yet known.
The most plausible explanation may be an obstruction of the whale's echolocation system by large amount of fine sand appearing in the water column during stormy weather.
Pilot whales display strong social bonding within their group. Once one of the animals beaches itself and produces a distress call, the others come to help only to find themselves stranded as well. (PN)
(*) Sasha Arkhipkin, Senior Fisheries Scientist talks about mass stranding of pilot whales