Macri in European tour to promote Argentina: Moscow, Davos and Paris
Tuesday, January 23rd 2018 - 06:42 UTC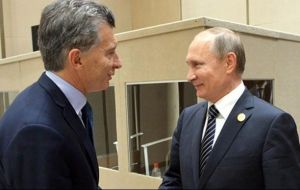 Argentine president Mauricio Macri arrived on Monday evening to Moscow the first leg of his latest tour of European countries, and the first of 2018, with the purpose of promoting Argentina and attracting investments. In Moscow president Macri and First Lady Juliana Awada are scheduled to meet with president Vladimir Putin at the Kremlin.
Russia is considered an excellent market for Argentine food exports, and to increase bilateral trade, but Russian energy companies, government and private, are also among the most dynamic, and the idea of president Macri is to interest them to invest in Argentina and its potential development in wind, hydroelectric, oil and gas sectors.
On Tuesday Macri will preside a conference with representatives from Biocad (Biotechnology); Gazprom (Energy); Gazprombank (Bank), Phosagro (Agrochemicals), Rosatom (Nuclear Energy), Sinara (Inverstments), Uralkali (fertilizers), and development bank Vnesheconombank.
Macri will later inaugurate the Argentina Square, in the Yakimanka District and lay a flower wreath at the Unknown Soldier Monument at the Alexander Garden next to the Kremlin outer wall.
Finally the meeting with president Putin. Macri will be accompanied by foreign minister Jorge Faurie; the secretary of Strategic Affairs, Fulvio Pompeo and the Argentine ambassador in Russia, Ricardo Lagorio.
From Moscow, president Macri and his delegation will fly to Davos, Switzerland for the World Economic Forum which convenes the main business and political leaders between January 23/26. On this occasion for the first time in years, US president Donald Trump has announced his attendance. The last time was when ex president Bill Clinton.
"It will be a great chance for the Argentine government to watch global tendencies, political and economic. Davos will be a shower of realism, and for planning strategies" said a member of the Argentine Davos delegation.
At Davos Macri is scheduled to meet with Dutch queen Maxima and prime minister Mark Rutte, Canadian prime minister Justin Trudeau and the head of the Helvetia Confederation Alain Berset. Other activities include a special interview with Microsoft CEO, Bill Gates, and the managing director and founder of the World Economic Forum Klaus Schwab. The official agenda does not include a meeting with British PM Theresa May, but they certainly will be coming across during the three day forum.
Macri is also scheduled to address the plenary session of the Forum, because as current president of G20, Argentina will be hosting the group's summit at the end of the year.
From Switzerland Macri flies to Paris to hold a bilateral meeting with French president Emmanuel Macron, at the Elysee Palace. The purpose is also to attract French investors, and the Mercosur/EU trade accord, but on this point it's hard to see any advances since Macron is very much conditioned by the powerful French farm lobby.
The Argentine delegation should be back in Buenos Aires on Saturday 27 January.