Uruguay and China flirt with a trade agreement, but Mercosur is not convinced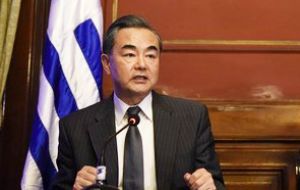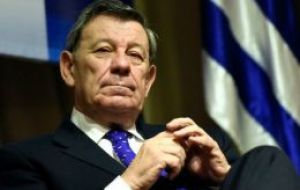 Chinese Foreign Minister Wang Yi said that Beijing is willing to negotiate step by step, a free trade agreements with Uruguay and other countries in South America, particularly members of Mercosur.
"Free trade between countries is in line with globalization, which helps preserve a multilateral trading system and promote economic growth for all parties", Wang said when meeting the press together with his Uruguayan counterpart Rodolfo Nin Novoa.
China, as a promoter of multilateral trade, continues to abide by its strategy of opening up to the world, Wang said, adding China's trade approach features a win-win cooperation and Beijing expects to share its development opportunities with other countries through free-trade networks.
Free trade agreements will pave the way for Uruguay and other Latin American countries to enter the Chinese market, something China welcomes and believes is in the long-term interests of all parties involved, Wang said.
China and Uruguay can become partners in the process of co-building the Belt and Road Initiative, which will help Uruguay become a regional logistics and transportation hub and contribute to their common development and prosperity, according to the Chinese diplomat.
Nin Novoa, for his part, said Uruguay will increase trade cooperation and sign a free trade agreement with China, Uruguay's biggest trade partner. The people of Uruguay admire Chinese culture and long to increase people-to-people exchanges with China, added the Uruguayan minister.
Historically, Latin America was a natural extension of the ancient Silk Road trade routes, Nin Novoa said, noting that Uruguay supported the Belt and Road Initiative from the very start.
The two foreign ministers also signed an agreement on the issuance of ten-year business visas and attended a reception for the 30th anniversary of the establishment of bilateral relations.
Uruguayan President Tabare Vazquez meeting with Wang Yi said he "strongly hopes" to push for a free trade agreement with China and is willing to actively take part in the Belt and Road Initiative.
"The bilateral ties between Uruguay and China are now at a historical high" after 30 years of diplomatic ties, said Vazquez.