Relief in Canada and North Ireland: Bombadier wins trade dispute with the US
Saturday, January 27th 2018 - 09:15 UTC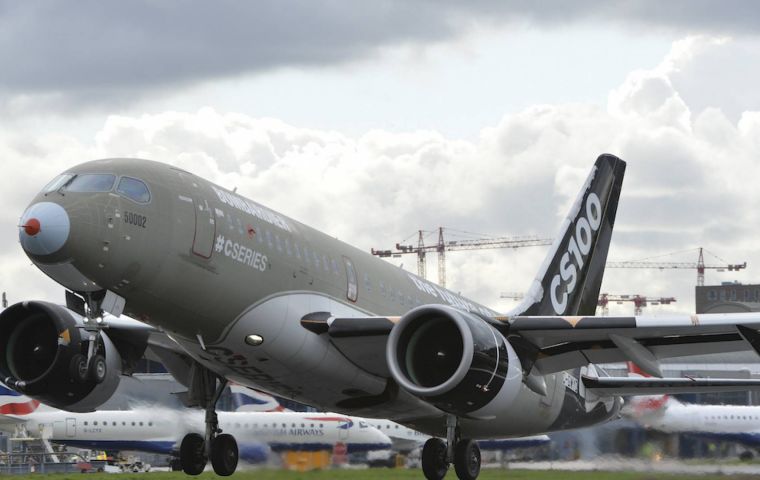 The Canadian aerospace firm which faced damaging import tariffs on one of its jets has won a trade dispute in the United States. The UK government had suspected that Bombardier would lose and unions feared sales and UK jobs connected to the C-Series would be hit. But in a surprise ruling, the US International Trade Commission (ITC) rejected a complaint brought by Boeing.
PM Theresa May welcomed the move, calling it "good news" for UK industry. Bombardier and its innovative workforce play a vital role in the Northern Ireland economy," she said.
The ITC voted 4-0 in favour of Bombardier. They ruled that there was no injury to US manufacturers, effectively forcing the US Commerce Department to reverse course on retaliatory countermeasures designed to protect Boeing.
Tariffs of 292% will not now be imposed on orders of C-Series planes by American carriers. About 50 companies in the UK supply Bombardier with parts for the C-Series. One thousand jobs in Belfast, where the wings for the plane are made, depend on its success.
A spokesperson for Bombardier said the ITC's decision was "a victory for innovation, competition and the rule of law."
"The C-Series is the most innovative and efficient new aircraft in a generation.," they said. "Its development and production represent thousands of jobs in the United States, Canada, and the United Kingdom."
A spokesperson for Boeing said it was "disappointed" by the ITC's decision and that it would "review the detailed conclusions when they are released".
Steve Turner, Unite assistant general secretary said it was "the right decision". He added Bombardier workers in Northern Ireland and throughout the supply chain in UK "will be breathing a huge sigh of relief".
Business Secretary Greg Clark said it was "excellent news for the dedicated workforce in Northern Ireland and supply chain across the UK, who have a great future ahead".
"The decision by the International Trade Commission confirms what the UK and Canadian Governments working hand in hand has maintained from the outset, that this case is unjustified. We are pleased that the ITC have now recognised this," he said.