Euro-skeptic Tories fear real danger of a "dilution of Brexit"; point to Hammond
Monday, January 29th 2018 - 10:41 UTC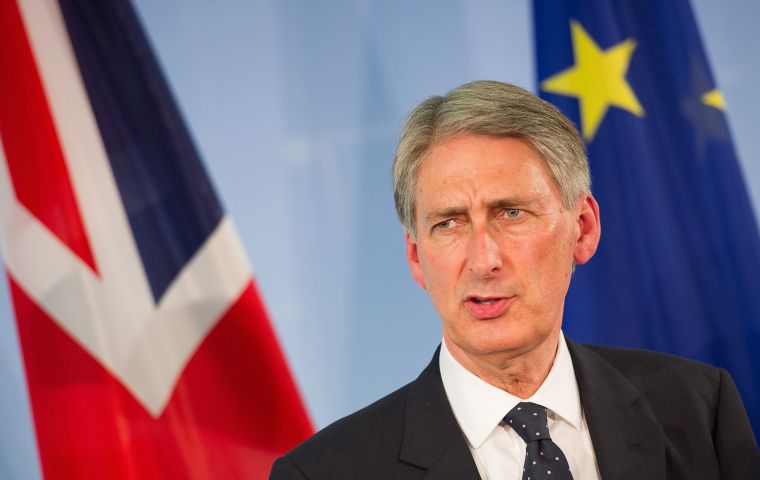 The UK is heading towards "a dilution of Brexit", former cabinet minister Theresa Villiers has said. The Conservative MP, writing in the Sunday Telegraph said there was "a real danger" the UK will sign up to an agreement with Brussels which could "keep us in the EU in all but name". Her comments come amid growing Tory party rifts over Brexit.
Backbenchers criticized Philip Hammond this week for saying changes to UK-EU relations could be "very modest".
Ms Villiers, who campaigned for a Leave vote in the EU referendum, said she had long "made the case for compromise and moderation" in the government's approach to negotiating Brexit.
But, she wrote, since the prime minister "set out a bold vision" a year ago, "the direction of travel seems to have gone in only one single direction: towards a dilution of Brexit".
The former Northern Ireland secretary added that a deal which kept the UK in the EU "in all but name" would "fail to respect the referendum result".
The UK is due to leave the European Union in March 2019, and negotiations are taking place between the two sides. Ms Villiers is the latest senior Conservative Euro-sceptic to speak out over perceived backsliding by the government.
One of the key questions is how close the trading relationship with Europe will be, once the UK has left.
Earlier this week the chancellor said he hoped the UK and EU economies would only move "very modestly" apart after Brexit, as they were already "completely interconnected and aligned".
But MP Jacob Rees-Mogg, one of the leading Euro-sceptic voices on the Conservative benches, said that "close alignment" with the EU after Brexit would be unacceptable.
He warned Theresa May that if she delivered "Brexit in name only", the Tories would lose the next election. Meanwhile, former Tory party chairman Grant Shapps has urged the prime minister to "name a date" when she will stand down, according to the Mail on Sunday. Mr Shapps said he had not submitted a letter to the party's 1922 Committee, calling for a leadership contest, but added "an increasing number of my colleagues have".