Argentine airports company struggles to take off in Wall Street public offering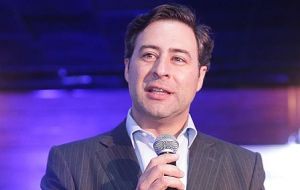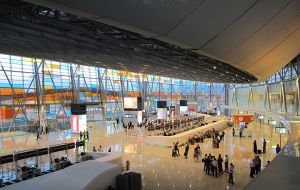 Shares of Corporacion America Airports struggled to get airborne on their market debut on the New York Stock Exchange on Thursday after the Argentine airport operator priced its initial public offering at the lower end of an already reduced range.
Shares opened at US$17, the same as overnight pricing, after the company revised the expected price range to US$17-$19 from a prior US$19-$23. In the afternoon shares were trading at US$16.55, down 2.6% from the Wednesday pricing.
Rising U.S. interest rates and declining appetite for Argentine risk after the country's risk measure rose in recent weeks were partly to blame for the weak reception, analysts said.
"It was not the best timing," said Alejandro Bianchi, investment manager at InvertirOnline in Buenos Aires. "In the past few days, rates rose and the market became more volatile."
The company, founded by Argentine billionaire Eduardo Eurnekian, said it was looking at the longer term. "For us making our company public was not about a specific price because in the end as we have seen it is set by the market and not by ourselves," said Martin Eurnekian, the company's chief executive and Eduardo's nephew.
"But the decision was to take this step to give the company tools to keep growing."
Corporacion America, which reported US$1.2 billion in revenue for the first nine months of 2017, operates the majority of Argentina's airports, including capital Buenos Aires' main international airport Ezeiza. It also has others in Latin America, Armenia and Italy. A key concession agreement that includes the operation of Ezeiza expires in 2028.
The company sold over 11.9 million shares, while a shareholder unloaded 16.7 million to raise a total of over US$485 million. Corporacion America Airports plans to use part of the proceeds to pay off some US$54 million in debt, according to a regulatory filing.
The IPO is part of a wave of Argentine companies looking to list overseas to take advantage of increasing investor interest in the country, whose benchmark stock index rose 78% in 2017 after a near 45% gain in 2016. Oppenheimer & Co, BofA Merrill Lynch, Citigroup and Goldman Sachs acted as joint book runners on the airport IPO, while Santander was co-manager.
Eduardo Eurnekian is linked to the Falklands since he financed the renovation of the Darwin cemetery and turned it into the Argentine Memorial. Allegedly he will also help relatives of the recently identified 88 soldiers remains in the cemetery to a ceremony sometime in the near future.