Venezuela rejects UN decision to take Guyana border controversy to The Hague
Saturday, February 3rd 2018 - 10:30 UTC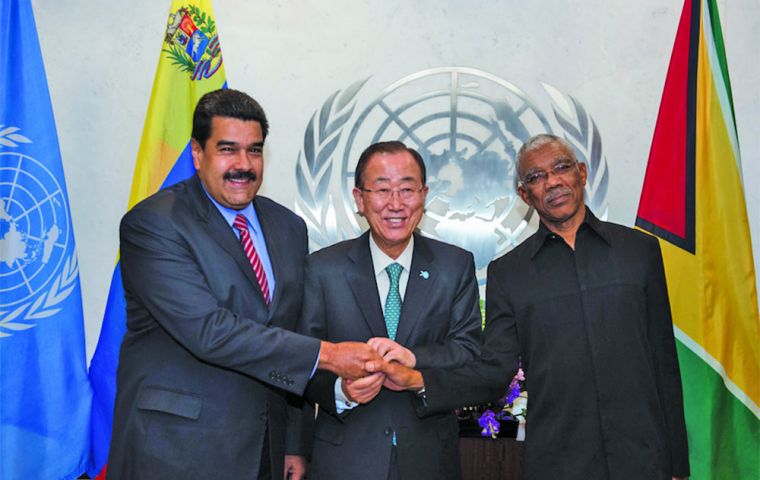 Venezuela has rejected the decision made by the United Nations to refer the border controversy with Guyana to the International Court of Justice (ICJ). "The Government of the Bolivarian Republic of Venezuela, faithful to its historical tradition and in accordance with the Bolivarian Diplomacy of Peace, reiterates its firm disposition to defend the territorial integrity of our Homeland and maintain political negotiation based on the 1966 Geneva Accord, as the only way to reach a peaceful solution, practical and satisfactory for both parties and in favor of our Peoples," the Venezuelan government said in a statement on Wednesday.
The administration of President Nicolas Maduro says it prefers another shot at the Good Officers' Process.
"It is worth asking the reasons that the International Court of Justice is recommended to two States that do not recognize their jurisdiction, since the Geneva Agreement itself provides for the political means for the settlement of the territorial dispute. In this sense, Venezuela ratifies in a decisive and unequivocal manner the negotiation process under these means" the Venezuelan Government said.
Guyana has always been pushing for the matter to be referred to the International Court and has welcomed the decision.
President David Granger told reporters that Venezuela should also show maturity and accept the decision, pointing out that both sides had agreed to the terms of the talks at the UN Secretary level and allowing him to decide on the way forward.
But Venezuela says it recorded its strong opposition to the letter of December 15, 2016, signed by the former Secretary General Ban-Ki Moon.
That letter made it clear that if there was no success at the Good Officer's process by the end of 2017, the matter would be referred to the International Court. However, Venezuela believes that the criteria contained in that letter from the former Secretary General "exceeded the powers granted to its investiture, contravening the spirit, purpose and reason of the Geneva Agreement and the principle of equity concluded between the parties."
According to the Venezuelan government, the Secretary General's communication goes beyond the successive nature of the means of peaceful settlement established by the Geneva Agreement as a methodology established to reach an acceptable, practical and satisfactory solution to the dispute.
Maduro is guaranteeing the Venezuelan people that he will continue defending "the sovereign rights over Guayana Esequiba and calls for national unity to protect the most sacred interests of the Homeland".
Meanwhile, in a statement just after the UN decision was handed down, Guyana's Foreign Affairs Ministry said Guyana has always held the view that the ICJ is the appropriate forum for the peaceful and definitive settlement of the controversy, and is pleased that, that view has prevailed under the process developed by both Secretary General Ban Ki Moon and Secretary General Antonio Guterres. (CMC).