Argentine officials and Malvinas relatives preparing trip to the Falklands
Monday, February 5th 2018 - 05:02 UTC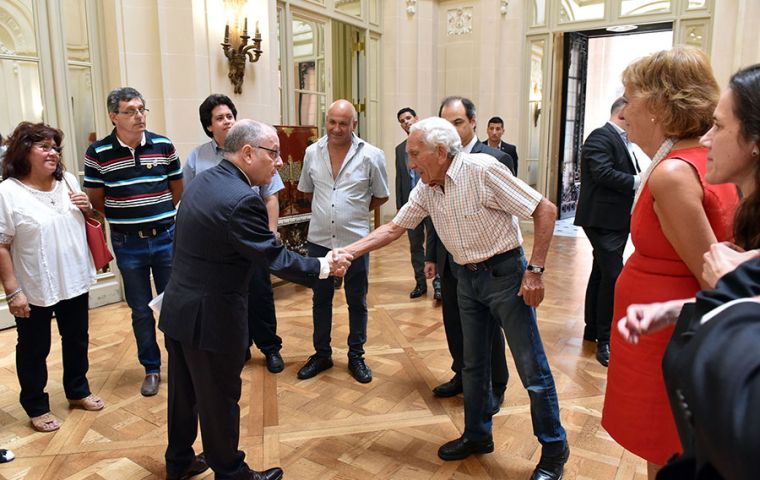 Argentine officials and representatives from the Relatives of the Malvinas fallen committee met last Friday to consider details of the trip to the Falklands, which is being organized for the next of kin of the 88 recently identified Argentine combatants remains buried at the Darwin cemetery.
Foreign minister Jorge Faurie, Human Rights Secretary Claudio Avruj and the head of the Malvinas Desk at the ministry, Maria Teresa Kralikas received representatives from the commission at the San Martin Palace, seat of the foreign ministry.
According to the official release the meeting was convened to address operational and logistics details of the flight for the relatives of the 88 now identified soldiers, in a very special ceremony to honor their loved ones that includes changing the black granite plaque which reads "Argentine soldier only known upon God", for that of full name.
The remains were identified by a team of forensic experts under the guidance of the Red Cross International Committee, working at the Darwin cemetery last June, July, August, in conformity with what was agreed by the Argentine and UK governments in the 2016 statement. The task was undertaken as a humanitarian initiative, with Falklands government consent, with the utmost respect and care for the remains. All media coverage was banned.
The next of kin expressed their gratitude for the initiative, and the standing willingness of the Argentine government to inform, consult and work with families who lost their sons, reports the release.
No details of what was considered or agreed has been informed. Earlier in the week Clarin reported that the idea is that the visit should take place before April 2nd, most probably in a chartered flight, and that Corporacion Americas, the same company that helped turn the battle cemetery into a memorial, (2009), is willing to contribute to the funding of the operation and the cost of the granite plaques.
An unconfirmed version is that Human rights secretary Avruj could join the relatives in the charter flight to Falklands.