Ecuadorean president wins referendum, barring Correa's hopes of reelection
Tuesday, February 6th 2018 - 09:17 UTC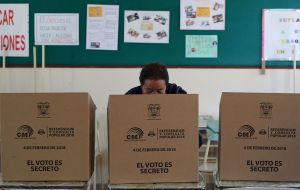 Ecuadoreans on Sunday voted to prevent presidents from holding more than two terms in office, according to the elections council, a win for President Lenin Moreno that blocks his mentor-turned-adversary Rafael Correa from returning to power. The results from the referendum, called by Moreno, roll back a measure Correa pushed through Congress in 2015 to allow unlimited presidential re-election.
"The victory of the 'yes' vote opens the path for us to work together, confrontation is a thing of the past," Moreno said in a televised broadcast, an apparent reference to Correa's famously combative style. "The old politicians will not return."
Moreno may now be emboldened to remove Correa allies from key government posts, and financial markets will likely see the result as confirming a more politically and fiscally conservative future for the oil exporting country.
The elections council said some 64% of voters had supported changing the re-election rules, while 36% of voters were opposed. It cited a quick count, which uses the results of a representative sample of polling stations to estimate the winner.
The referendum is legally binding and implies a direct change to the constitution.
Voters also gave broad backing to six other measures, including limits on oil production and mining in environmentally sensitive areas, and stiffer penalties for corruption. Some of those will require the involvement of Congress.
Correa said the referendum was aimed at destroying his legacy. "The struggle continues," he wrote via Twitter. "We cannot accept such a constitutional rupture."
Correa led Ecuador between 2007 and 2017, a period that saw him win support for anti-poverty programs but criticism for excessive confrontation and for allowing corruption to flourish.
He declined to run in 2017 and tapped Moreno, then Vice President, as the ruling party candidate. He now says Moreno is a "traitor" seeking to annihilate him politically.
Though he has been living in Brussels with his Belgian wife since leaving office, he has returned several times to whip up support during campaign stops across Ecuador.