Another Temer minister appointment on the cliff
Wednesday, February 7th 2018 - 09:35 UTC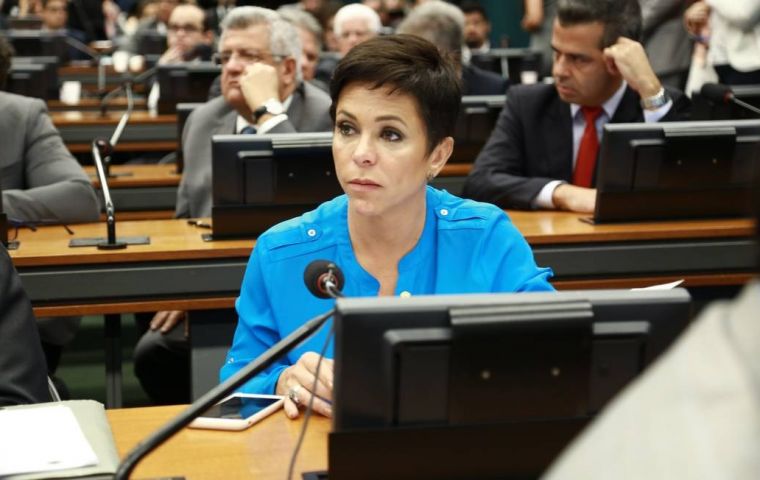 With Brazil's unpopular government battling to hold together a congressional coalition, President Michel Temer has been unlucky with his pick of cabinet ministers. Seven quit or were fired in his first year in office, four of them following allegations of wrongdoing. Among them, Geddel Vieira Lima, who was eventually arrested after police identified his fingerprints in an apartment filled with US$16 million in cash.
Now, Temer's latest choice to join the apex of Brazilian power has run into trouble. Cristiane Brasil, the government's would-be labor minister, has twice had her appointment blocked by courts over her conviction for violating labor laws. She was ordered to pay 60,400 reais (US$18,500) for failing to formally employ her driver, thereby depriving him of holiday pay and other benefits.
Last week, a friend of Brasil posted on social media a video of her on board a yacht with four shirtless male companions, in which she argued it was perfectly normal for Brazilian business people to be taken to court. The video generated a certain amount of unease within her party, the PTB, which is run by Brasil's father, Roberto Jefferson.
Since then, her situation has not improved. On Saturday, local media reported that she was under investigation by public prosecutors for alleged links with drug-traffickers. In a statement she said she had not been questioned over the accusation and denied links with criminals of any kind.
On Sunday, Globo TV broadcast audio from 2014 of her warning state employees they would lose their jobs if they failed to find enough votes to get her elected.
"If I lose the election for federal deputy, the next day I'll lose the secretariat, and the following day you'll lose your jobs," Brasil says in the tape, which only came to light now as public scrutiny over her grows. Asking employees to get her 30 votes each, she advises women how to compel their husbands to vote for her: "Darling, do really want to have to pay for my panties? So help me out!"
A spokesperson for Brasil told Globo TV that the she never "infringed upon any ethical or legal norm related to elections."
The public backlash has not yet been enough to dissuade Temer from pushing for her nomination -- a sign of just how desperately the government needs the support of her party to approve crucial reforms in Congress.
"The government is continuing to insist on the recognition of the constitutional right of President Michel Temer to nominate his ministers," said Brazil's Government Affairs Secretary, Carlos Marun.