Colombian government refuses to close its border with Venezuela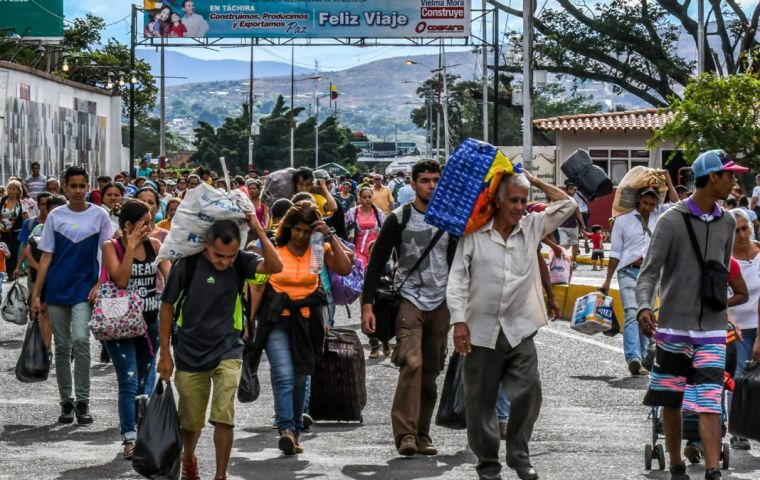 At least 8,000 Venezuelans cross the border between Colombia and Venezuela daily to the department of Arauca, southeast of Colombia. Although the migratory flow at this point does not compare with the thirty or forty thousand Venezuelans who cross the Simón Bolívar bridge between Santander and Táchira every day, in Arauca the majority of migrants arrive in conditions of extreme vulnerability.
The authorities and the guilds of the Colombian Arauca asked President Juan Manuel Santos to close the border in order to stop the overload of public services and the transfer of merchandise smuggled into the entity. The area, which also faces problems with the control of armed groups, comes displaced from the FARC, paramilitaries and indigenous people who are displacing from their tribes.
The mayor of Arauca, Benjamín Cermeño, asked for support from the Santos government to find a solution. "What I am looking for is a real and concrete solution. The solution is for the two countries to enter into a dialogue," says Cermeño. On Tuesday, the mayors of the border municipalities met with President Santos to discuss possible measures. However, it was decided that the border would not be closed.
There are at least 600,000 Venezuelans on Colombian ground, warns Víctor Bautista Olarte, who is the director of Borders of the Colombian Foreign Ministry. But that figure only counts the migrants who pass through the border posts and not those who pass through illegal routes or roads, which abound in the "porous border." "It is a regional reality, because it affects other neighboring countries, and requires solutions in international forums," adds Bautista Olarte, since many of these Venezuelan migrants are in transit to Peru, Ecuador or Chile.
Several weeks ago there have been reports of conflicts between residents of the border city of Cúcuta and Venezuelans who take refuge on sports courts and on the streets of the city since they do not have the resources to continue the trip. In the same city, a Migration Assistance Center was opened in Villa del Rosario to serve hundreds of citizens in vulnerable conditions. The center is being maintained with resources from the same Department of Santander. However, an agreement between Colombia and the US is expected with the visit of Secretary of State Rex Tillerson in which an allocation of funds could be agreed to address the issue.
According to Bautista Olarte, the United Nations is advising the chancellery on logistics, although on Tuesday the National Assembly of Venezuela -in opposition majority- recommended that Colombia request support from UNHCR, the UN agency for refugees. Bautista Olarte argued that immigration measures that do not consider the closure of the border be sought.
Currently there are shelters maintained by the Colombian Red Cross serving some vulnerable people.
Meanwhile, the Venezuelan government has not ruled on the issue.