Brazil's central bank beats inflation and recession: eyes now on the presidential election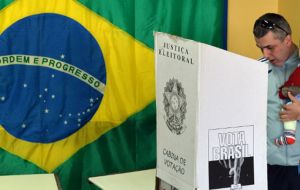 Brazil's central bank cut its benchmark interest rate on Wednesday to a new low of 6.75%, but hinted it was now done with a historic easing cycle. The bank lowered the Selic rate by 0.25 percentage point, its 11th consecutive cut aimed at helping Latin America's largest economy emerge from a stifling two-year recession.
The rate now stands at about half what it was at the end of 2016, thanks to a strong fall in inflation in a country historically dogged by surging prices. But the uncertainty surrounding upcoming presidential elections in October may now make the central bank apply the brakes.
"At this time the Copom (monetary policy committee) views the interruption of the monetary easing process as more appropriate," the bank said in a statement, though it left the door open to further cuts "if the committee's baseline scenario or balance of risks change."
The bank appears to be "calling time" on the easing cycle, said Neil Shearing, chief emerging markets economist at consulting firm Capital Economics.
"We expect the Selic to be left unchanged until October's elections are out of the way. Given the potential for a significant shift in the political landscape, the outlook for interest rates beyond the election is unusually uncertain," he wrote in a note.
High on the list of political uncertainties is whether conservative president Michel Temer will manage to push through cuts to the pension system, the keystone of austerity reforms aimed at bringing discipline to the floundering economy.
For now, the government does not have enough votes in Congress and although the measure is popular among investors, many voters fiercely oppose any reductions in the generous system. There are also doubts about the chances of any business-friendly centrist candidate in the elections.
The frontrunners are currently ex-president Lula da Silva and right-wing firebrand Jair Bolsonaro. Adding to that uncertainty, Lula doesn't even know if he can run, since he is fighting a corruption conviction and prison sentence.
The Selic got as high as 14.25% in October 2016, when the central bank was fighting inflation in the midst of the deepest recession in Brazilian history. Traditionally one of the world's highest interest rates, its all-time high was 45 percent, in March 1999.