"The Big Lizzie" calls at Gibraltar on maiden trip; she's scheduled to begin helicopter trials
Monday, February 12th 2018 - 15:35 UTC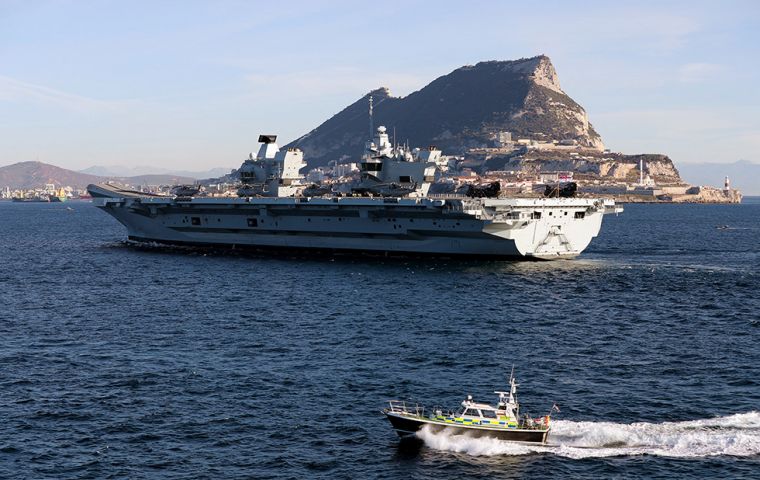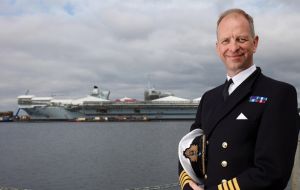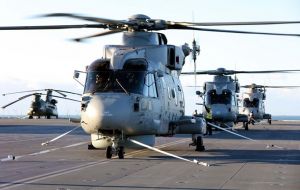 The Royal Navy's new aircraft carrier HMS Queen Elizabeth arrived in Gibraltar for her first overseas port visit. As she sailed into port under close security escort, UK Defense Secretary Gavin Williamson highlighted the Rock's strategic role for UK military operations.
"As the Rock casts its shadow over the flight deck of our world-class aircraft carrier, Gibraltar rightfully marks HMS Queen Elizabeth's first overseas stop as she refuels and takes on supplies before continuing her sea trials," he said. "I'm sure our friends in Gibraltar will be proud to see our future flagship sail through British waters into their famous port."
The 65,000-tonne future flagship, affectionately nicknamed 'The Big Lizzie', will be conducting a routine logistics stop having left her home in Portsmouth last week for helicopter trials. These helicopter trials take place before the fixed wing F35 Lightning II trials later this year.
Captain Jerry Kyd, the Commanding Officer of HMS Queen Elizabeth, said: "It is a great privilege for me to be bringing our new aircraft carrier into Gibraltar for her first ever overseas port visit."
"Gibraltar is the perfect stop for HMS Queen Elizabeth as we conduct our flying trials in the waters off the Iberian Peninsula. And our visit also underlines the incredibly rich history and special relationship the Royal Navy and Royal Marines share with Gibraltar."
"I am personally very lucky to have visited the Rock many times in my naval career, but well over a quarter of my sailors have not yet experienced what, for the Royal Navy, is something of an iconic run ashore."
Since departing the UK for the first time since being commissioned into the Royal Navy, HMS Queen Elizabeth and her ship's company of 1,000 men and women have been undergoing intensive training.
The Governor of Gibraltar, Lieutenant General Edward Davis, said: "From the moment Her Majesty appointed me as Governor and Commander-in-Chief of Gibraltar I, and no doubt all Gibraltarians, have been eagerly awaiting HMS Queen Elizabeth's first visit to the Rock."
"My eagerness reflects two things. First, my pride in one of the world's most advanced aircraft carriers as a manifest demonstration of the British Navy's ambition and resolve to ensure that our nation's maritime and amphibious capability remains a decisive global force for good."
"And second, my confidence that HMS Queen Elizabeth's entry into service will see Gibraltar continuing to prove its vital relevance as a mounting and sustainment base for global Britain's contribution to international security."
The carrier reached a major milestone last week when a Naval Air Squadron embarked in the ship for the first time, marking another first in the regeneration of the Royal Navy's carrier strike capability. Merlin Mk2 helicopters of Culdrose-based 820 Naval Air Squadron (NAS) have been working with the ship since she sailed from Rosyth for the first time in June last year.
The ship was escorted into Gibraltar by the Royal Navy's Devonport-based Type 23 frigate HMS Somerset and be vessels from the Gibraltar Squadron, the Gibraltar Defense Police and the Royal Gibraltar Police.
On leaving Gibraltar HMS Queen Elizabeth will return to sea to conduct helicopter trials with specially equipped Merlin and Chinook aircraft from the Aircraft Test and Evaluation Centre at MOD Boscombe Down.
The data collected will be analyzed to work out their operating parameters at sea, ahead of fixed wing flying trials with the F-35B Lightning II Joint Strike Fighter off the east coast of the United States in the summer.