Canada will begin free trade talks with Mercosur in Paraguay on 9 March
Saturday, February 17th 2018 - 09:29 UTC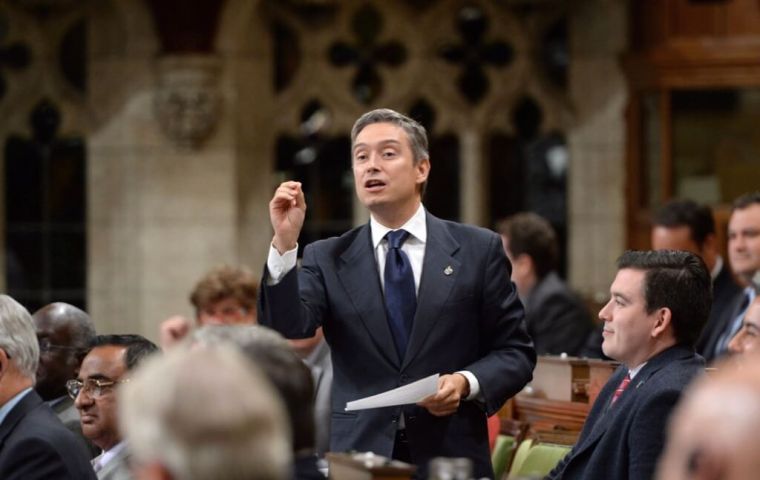 The Canadian government plans to open free trade talks with the four-nation Mercosur trading bloc in South America at a time when the future of NAFTA is facing increasing uncertainty. Canada sends around 75% of its goods exports to the United States and is looking for new markets to reduce the reliance on its southern neighbor.
Trade Minister Francois-Philippe Champagne is set to arrive in Paraguay on March 9 to launch talks with Mercosur, which also includes Argentina, Brazil and Uruguay. On March 8, Champagne, will sign in Chile the Comprehensive and Progressive Trans-Pacific Partnership, the CPTPP, formerly known as the TPP.
"The stars are sort of aligning right now. Whether it's auto parts, chemicals, lumber, sea food, this is actually a very attractive market," said Champagne spokesman Joseph Pickerill.
Canada's overall bilateral trade with Mercosur is only worth C$8 billion (US$6.38 billion) a year, he said. Trade with the Pacific Alliance grouping of Mexico, Colombia, Peru and Chile - all of which have free trade deals with Canada - totals C$48 billion a year.
That is dwarfed by bilateral Canada-U.S. trade, which according to Statistics Canada totaled C$780 billion last year.
"This (opening talks with Mercosur) makes a lot of sense and right now we have got countries very, very eager to work with us," said Pickerill, adding that Canada was interested in free trade in both goods and services. Exploratory talks took place last year.
Talks to modernize the North American Free Trade Agreement have run into trouble over U.S. demands for big changes and an increasingly isolationist approach by the administration of President Donald Trump.
After the United States pulled out of a proposed 12-nation Pacific trade pact last year, the remaining 11 members forged a new deal. Champagne will be in Chile on March 8 to sign that treaty before heading to Paraguay.
Canadian Prime Minister Justin Trudeau left on Friday for a trip to India, which Canada sees as a potentially valuable export market. Insiders say talks on a proposed free trade treaty are making very slow progress, however, and will not be completed for years.