Falklands' second weekly commercial air link talks take off, and should crystallize by next October
Saturday, February 17th 2018 - 02:06 UTC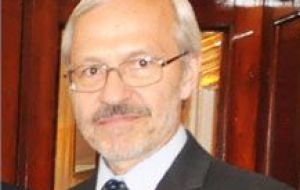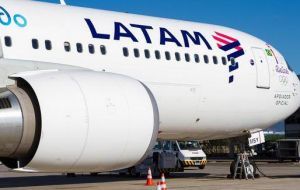 The United Kingdom and Argentina, following on the September 2016 joint communiqué to establish additional air links with the Falkland Islands, jointly announced on Friday that third country airlines interested in such operations will be contacted. It is expected that by the end of February the commercial process will be initiated, led by the Falkland Islands, and sometime next October the new weekly air link, with a monthly call in Argentina, will become operational.
The February 16 release from the Falkland Islands government reads as follows:
"Today, UK embassies in Brazil, Chile, Paraguay and Uruguay have received a letter jointly issued by the UK and Argentina Governments, requesting assistance in contacting airlines in their respective countries, to invite them to communicate their interest in establishing a new weekly scheduled air service to and from the Falkland Islands.
"Once these responses are received at the end of February, a commercial process will be initiated that will be led by the Falkland Islands. This will be managed in stages to evaluate viable proposals from interested airlines and undertake negotiations, with the objective of securing one additional flight per week, including a monthly stop in Argentina, once in each direction, before the end of 2018. This will complement the existing weekly LATAM flight to and from Chile.
"Speaking of the announcement, MLA Dr Barry Elsby, portfolio lead for Development and Commercial Services, said: "This is a very positive step forward for the Falkland Islands; we've long said that our economic development has been constrained by our isolation, and this additional flight will help us to improve our links with the world at large. It will give local people a more affordable and reliable way to travel with increased flexibility and more choice, as well as support our export and tourism businesses to become more resilient through enhanced international connections."
"Barry Rowland, Chief Executive, added: "This additional air link will unlock the potential for Falkland Island businesses to flourish and, in turn, bring about wider economic and social benefits for our local population. The commercial process will be carefully managed by the Falkland Islands, together with our appointed specialist contractors 'Aviation Economics'. This is an exciting time and we are looking forward to exploring the opportunities to work with new and existing partners to improve the experience of everyone travelling to this beautiful part of the world by air."
"It is hoped that the final contract negotiations will be completed over the winter months, with the new air link due to become operational in October 2018".